Rituals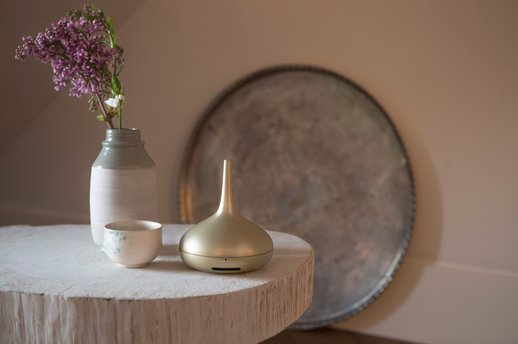 Lift your fragrance experience to a higher level with the perfume diffuser from Rituals. Easily connect with Homey and scent your home whenever you like.
The Rituals Perfume Genie is a wireless device that you can control via Homey and use in your Flows. It allows you to perfume your home with your favorite scents while you're still on the go. On top of that, its eye-catching design adds a sophisticated and cosy touch to your home's interior.
A new, innovative way to perfume your home
For pretty much every occasion imaginable, the Rituals Genie Perfume Diffuser has your back. Are you throwing a party? Set the mood and create a vibrant atmosphere with fresh citrus perfume, some good music blasting through your Sonos speakers and the perfect light ambiance with Philips Hue lights. The morning after will never be the same because you soothe everyone's senses with a Dao cartridge that smells like cherry blossoms.
Pair with your other smart devices
Connect the Rituals Genie Perfume Diffuser with Homey and give your home a warm, elegant touch. Choose from different perfumes to create the right atmosphere, while you control the schedule and fragrance intensity remotely.
And did you know Homey is the only smart home hub that lets you connect other devices to the diffuser? This gives you the ability to make advanced Flows tailored to your needs.
Buy the Rituals Perfume Genie at the Homey Store, connect with your other devices at home and perfume your home like never before.