Nanoleaf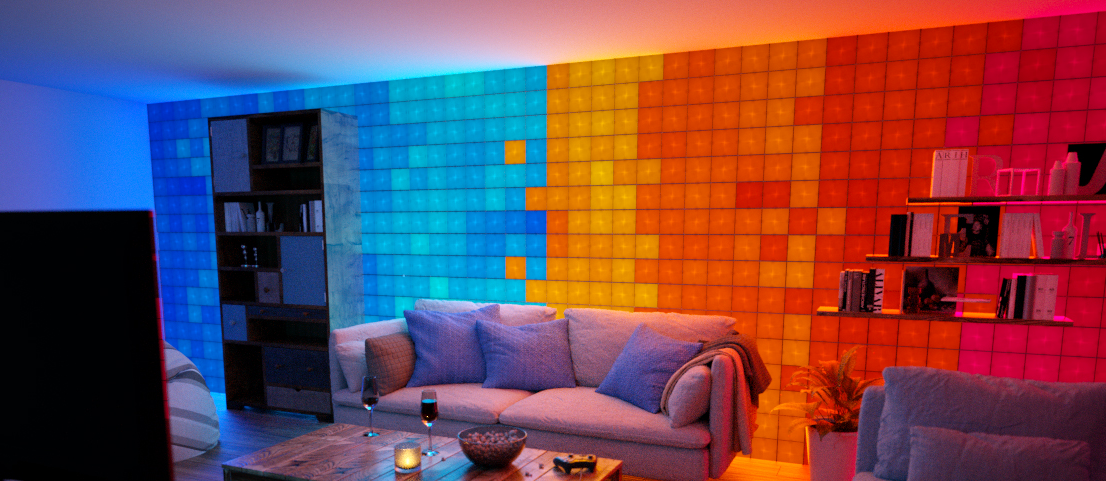 Add a splash of color and light to your home with the Nanoleaf lights. Integrate them in your Flows via Homey and wake up every morning with a beautiful 'sunset'.
Nanoleaf is taking ordinary experiences and making them extraordinary. By infusing thoughtful design and technological intelligence in their products, Nanoleaf is ushering in a new era of the smart home that centers around complete personalization.
Your smart home in living color
With Homey you can enhance your smart home experience by integrating your Nanoleaf products with other smart devices from brands like Sonos, Philips Hue or Rituals. Create a relaxing ambiance by lowering the blinds, playing your favorite music and watching the lights sway along to the music. You can also schedule your lights to automatically wake you up at sunrise and turn on your smart coffee machine so everything's ready before you get to the kitchen.
Watch the lights dance to your music
Spoken-word, music, sound effects from a game - with the Rhythm module you can convert anything that a microphone can pick up into dancing lights. This module allows the light panels to react to any sound in the room.
The panels are touch-enabled, so you can double-tap them to toggle them on/off, swipe up to raise the brightness and program these gestures to let them do what you want. You can also use the touch controls to play a memory matching game where your setup displays a random mix of colors for a few seconds.
Create your own wall-mounted masterpiece
Each panel measures around 15 cm on each side. The shape of the panels can inspire some creative designs on your wall, because of the flexible linkers so you can place the light panels in a corner. Place nine of those together (without using screws) and you quickly cover quite a space on your wall.
Whether you want simple mood lighting, color changing art or something to get the party going, the Nanoleaf Canvas is huge fun. Get your Nanoleaf panels at the Homey Store and find out yourself. 😉