What's new in Homey v5.0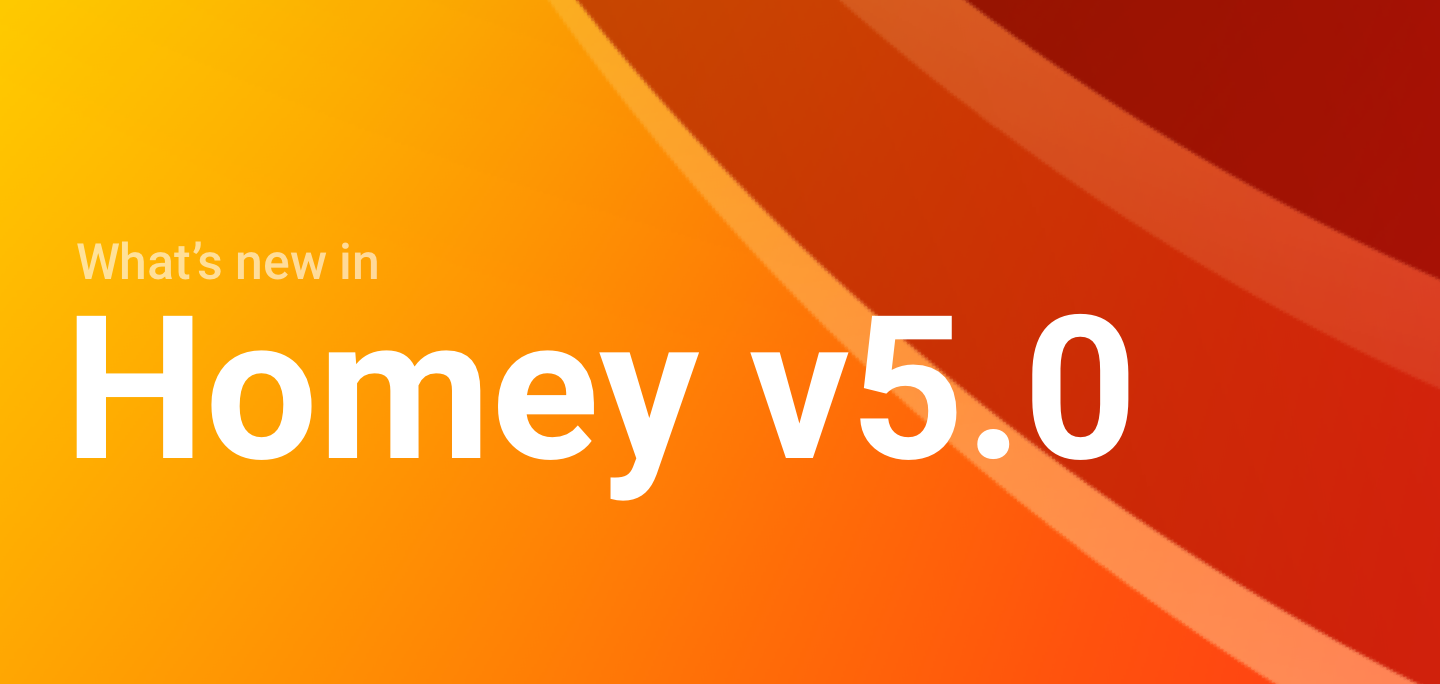 We've just released Homey v5.0, a massive update and it's packed with new features. Most likely, your Homey has already updated itself. Let's dive in, and see what's new!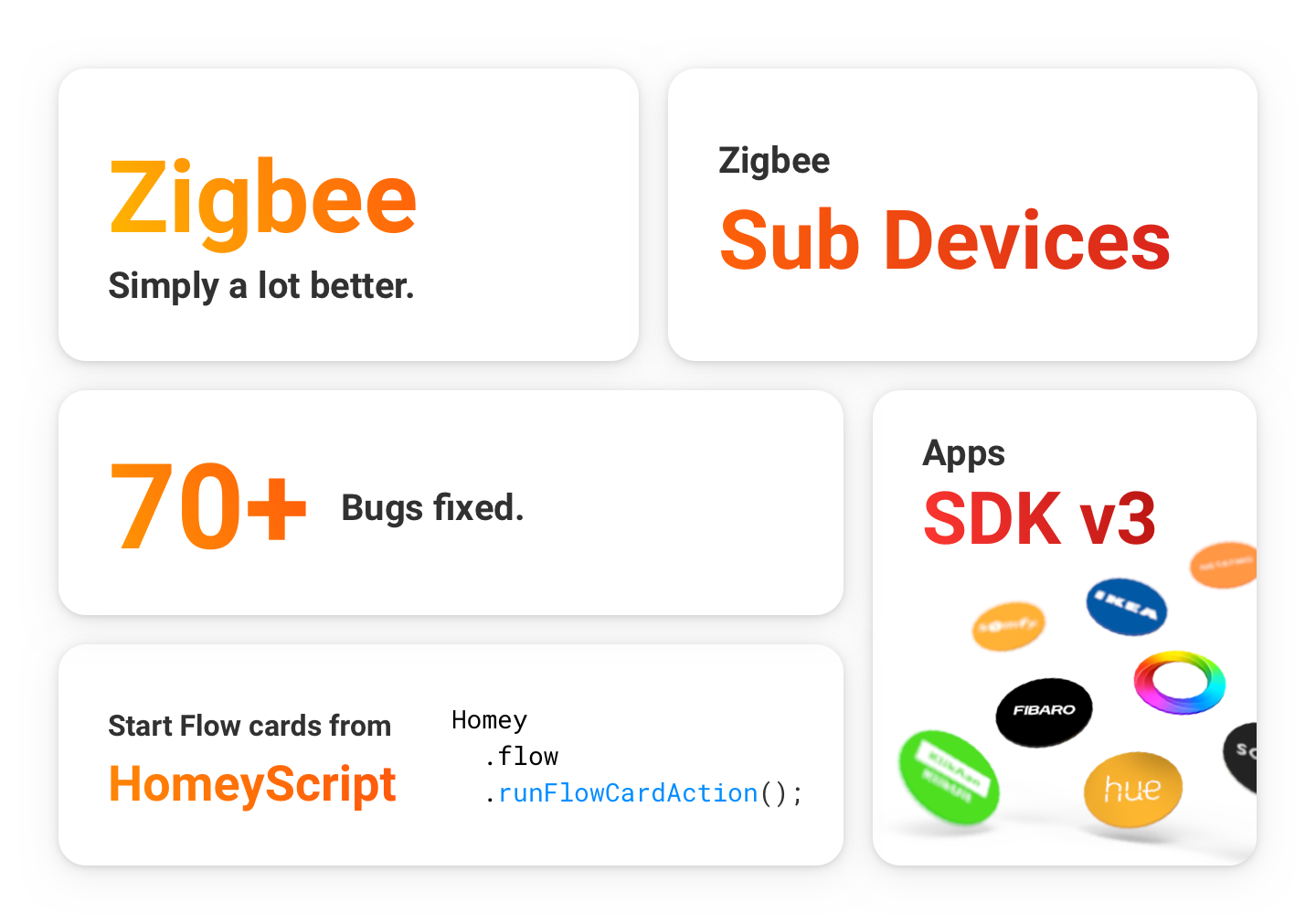 Zigbee
We've completely redesigned the Zigbee core to work faster, support more Zigbee-features (e.g. Sub Devices) and be more future ready.
Since the beginning we have used open source code for Zigbee, but it just didn't meet our standards. So we've set out to completely create our own code, tightly integrated with Homey to ensure the best compatibility.
We also want to give a big shout-out to all community developers who have helped us test this update, and especially for making sure their apps were updated in time! 👏🏻
Zigbee Sub Devices
Zigbee devices with multiple devices built-in, e.g. a power strip with six sockets, can now show up in Homey as six individual devices. That's incredibly useful for your Flows, their settings and even energy monitoring.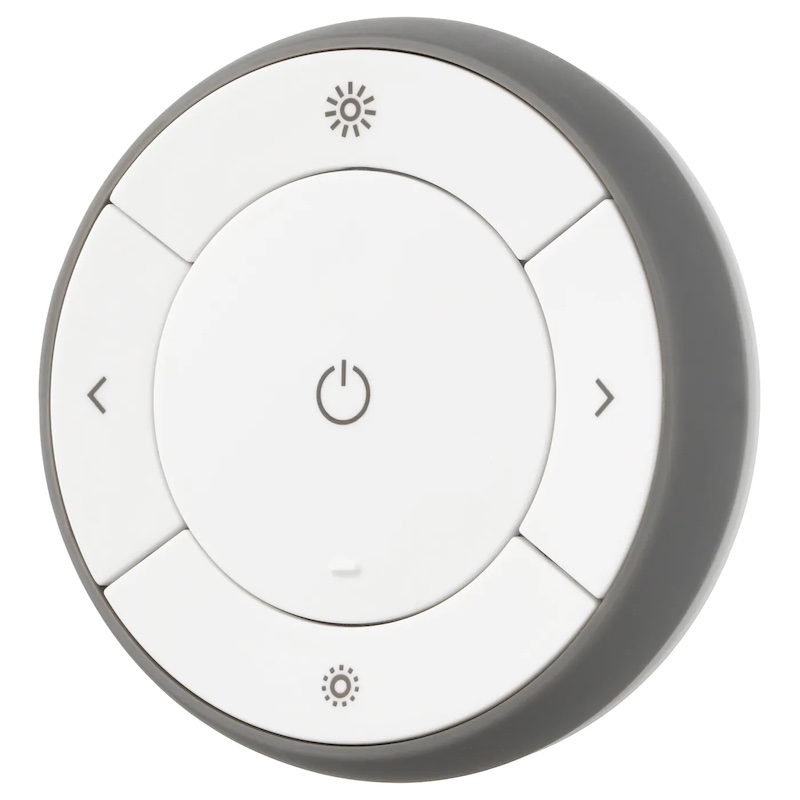 Device Compatibility
Many more devices are now supported. For example, the IKEA remote was a much-requested device that now works great with Homey.
Apps SDK v3
Homey is a platform for great apps, so we're always focused on making the developer experience better. Homey v5.0 includes Apps SDK v3, a whole new set of APIs for developers to build apps on. It's simpler in usage, much more robust in preventing crashes and extremely future-ready. We've already seen great apps being published that use the Apps SDK v3 and can't wait to see more apps arriving in the Homey App Store.
HomeyScript
We've also released an update for HomeyScript. The app can now start any Flow ('and' or 'then') card directly from a script.
For example, you can start Blink the light from the Philips Hue app, Animate the LED Ring from Homey or Turn off all lights upstairs. A whole new world opens with a single line in your HomeyScript!
Set Home/Away by Speech
Since Homey v5.0, you can automatically set your Home/Away or Asleep/Awake status by talking to Alexa or Google Assistant. No need to create a Flow.
Stability Improvements
With more than 70 issues solved, this update is a massive improvement for daily usage & stability. Interested in what specifically? Read the release notes here »