Make the most out of your smart bedroom with these four Flows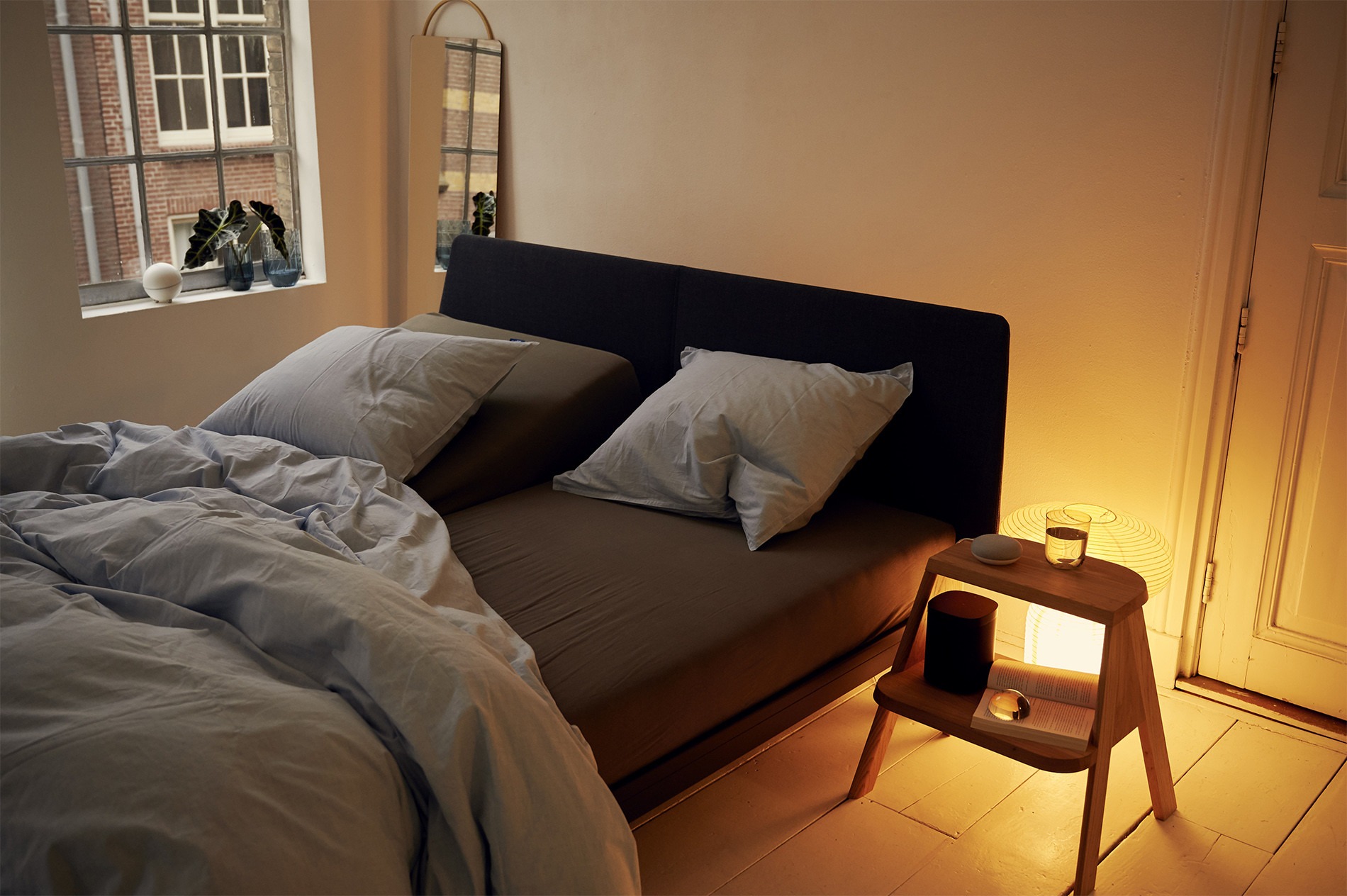 The bedroom is a place to relax. A place where you fall asleep happily after a night out. In the most comfortable bed you have ever slept in. It is the ultimate room to relax in.

There are countless ways to automate your bedroom. Smart curtains on the wall, smart speakers and smart lights in the ceiling and on the nightstand. Connect Homey to the devices in your bedroom and start and end every day even better. Use these four flows to really make the most out of a smart bedroom.
1. Homey makes everything ready for bed
A good night's sleep works miracles. Have Homey give a heads up when it is time for bed. When you get in the bed, your lights turn off, the thermostat is set to cool and the curtains automatically close. Withings can track your heart rate, breathing and sleeping patterns so you can wake up more refreshed and full of energy.

Can't find sleep immediately? Best to relax. Dim your lights and talk through the day with whoever is next to you. Tell them your three favorite things about today. Or have Homey run a 'Book-reading' Flow and read a few pages of your favorite novel. Always a good inspiration for dreams.

2. Have Homey protect the house while you sleep
Keep unwanted visitors out using door sensors, smart locks, smoke detectors and cameras. The foundation of a good security system. With Homey you can sleep relaxed, knowing your house is being watched over. If a door sensor break contact, Homey can ring an alarm, blink your Philips Hue lights in a specific color and send a notification straight to your phone, so you know something is wrong without getting out of bed.


Are you someone that needs to get out of bed a few times a night? Then use motion sensors and never stand around fiddling for the light switch while still half asleep. This way you can find your way around the house at night, safely.
3. Homey helps you clean
We admit it: almost nobody likes cleaning up! But, a clean, well organised bedroom gives you an organised mind, which in turn gives a good night's sleep. Is there any better feeling than getting into a fresh made bed in a clean room? Using a robot vacuum ensures you have to vacuuming done  automatically. Add in a smart washing machine, and your bedsheets can be cleaned in the bed possible time!

Unfortunately, you just can't escape having to dome some of the dirty work yourself. Making the bed and dusting off are just some of those things you'll have to do yourself. But, you can have Homey make this a lot more fun. Put some guilty pleasures on those speakers and turn your Nanoleaf panels into your dance partner. Dust off those lovely Philips Hue lights and ventilate the room with your Dyson ventilator.

Give yourself a well deserved pat on the back, and have Homey compliment you!

4. Homey puts the shine in 'Rise and shine'
Good morning! From early bird to night owl, everyone wakes up in their own way. Are you someone that enjoys a slow start to the day? Image the following. When the first rays of light hit the curtains, they automagically open and your favourite playlist slowly start playing through your Sonos speakers.

Do you need a more energized start? Have Homey sound an alarm (or ten) through Homey Alarms, so you are sure to get up out of bed. For those living the high life and Auping lovers, have your Auping Smart Base automatically turn the head rest up, so you literally get lifted up out of bed when the last alarm goes off!

Make the most out of your house and your bedroom. With just a few devices you can create a lot of Flows using your preferences.