Introducing Advanced Flow for Homey Pro
Today we're introducing Advanced Flow, a massive new feature, available for Homey Pro & Homey (2016 — 2019). Update 2023: Advanced Flow is now also available within Homey Premium.
Advanced Flow is a leap forward in the way users automate their smart home. With the same powerful Flow-cards that have already automated over hundreds of thousands of smart homes, Advanced Flow brings those existing Flow cards to an infinite canvas, for infinitely more possibilities.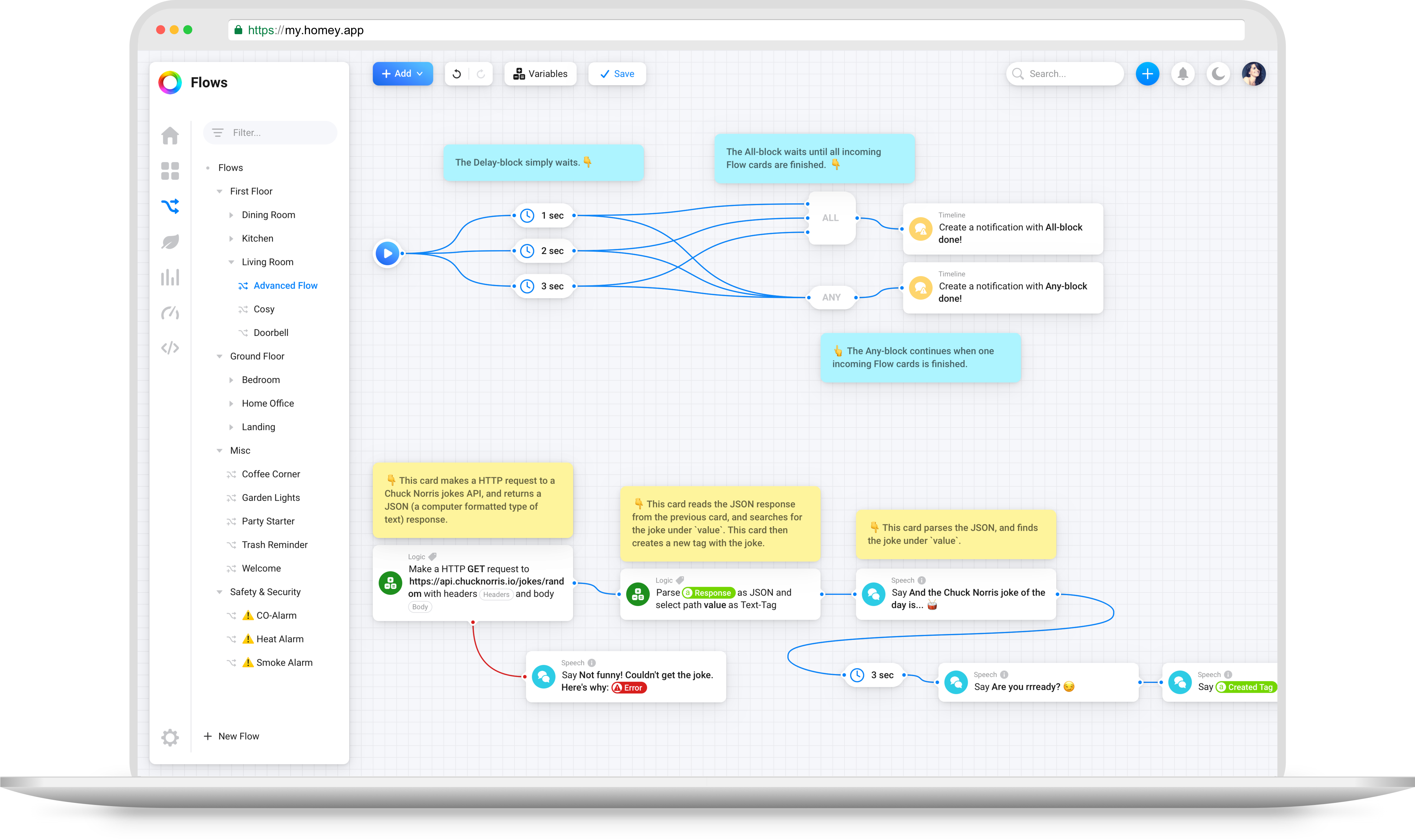 Advanced Flow Blocks
Advanced Flow comes with a variety of new blocks that unlock powerful behaviour.
The Start-block is the entry point for a manual start, from a voice assistant, or from another Flow.
The Delay-block continues when a set time has elapsed.
The Any-block continues when any of the preceding cards are done.
The All-block continues when all of the preceding cards are done.
The Note can be placed anywhere on the canvas for your own comments.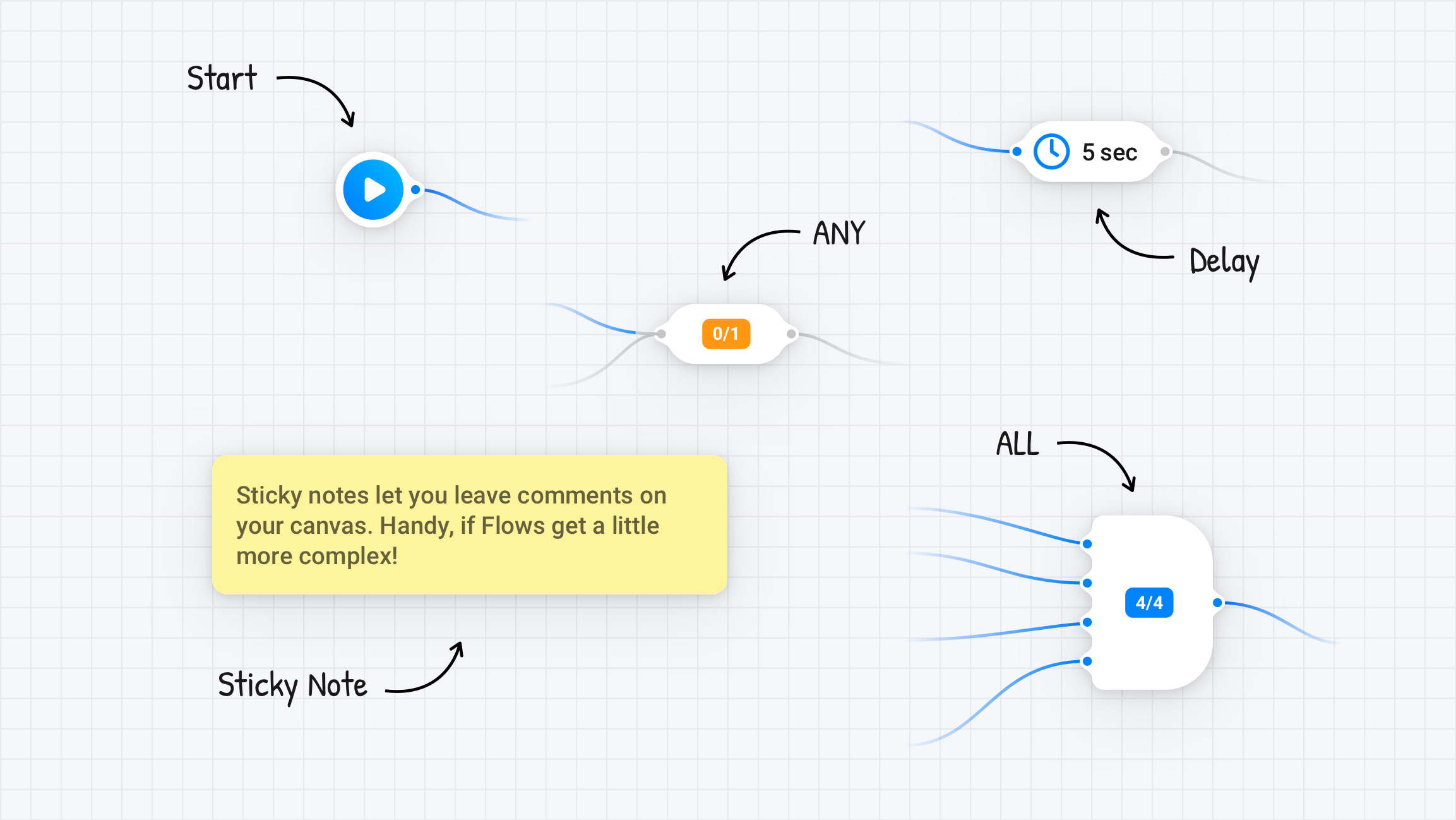 Advanced Flow Cards
Advanced Flows use the same Flow-cards that are familiar to Homey users — and more. New are the 'Advanced Flow'-only cards, that can create a tag for use in follow-up Flow cards. For example, Get the realtime bitcoin price creates a Number-tag, that the Logic Calculate a Number card can transform, which can finally be used in the Send a Push Notification card.
Multiple When-cards can now be placed on a single canvas, so related automations can now be grouped in a single Advanced Flow.

Advanced Flow Tags
Advanced Flows can drag an 'error' line from any And- or Then-card. When the cards fail, for example when the internet is offline, the following cards can continue while using an Error-tag containing what went wrong. A great example to illustrate this new functionality is to send yourself a push notification when a smart lock fails to lock.

Inline HomeyScript
HomeyScript allows Homey Pro users to write scripts for intense automation tasks. In Advanced Flow, HomeyScripts can now be created inside of an Advanced Flow, without the need of creating an external script.
Naturally, an inline HomeyScript can receive a tag as input, transform it, and return a new tag as well.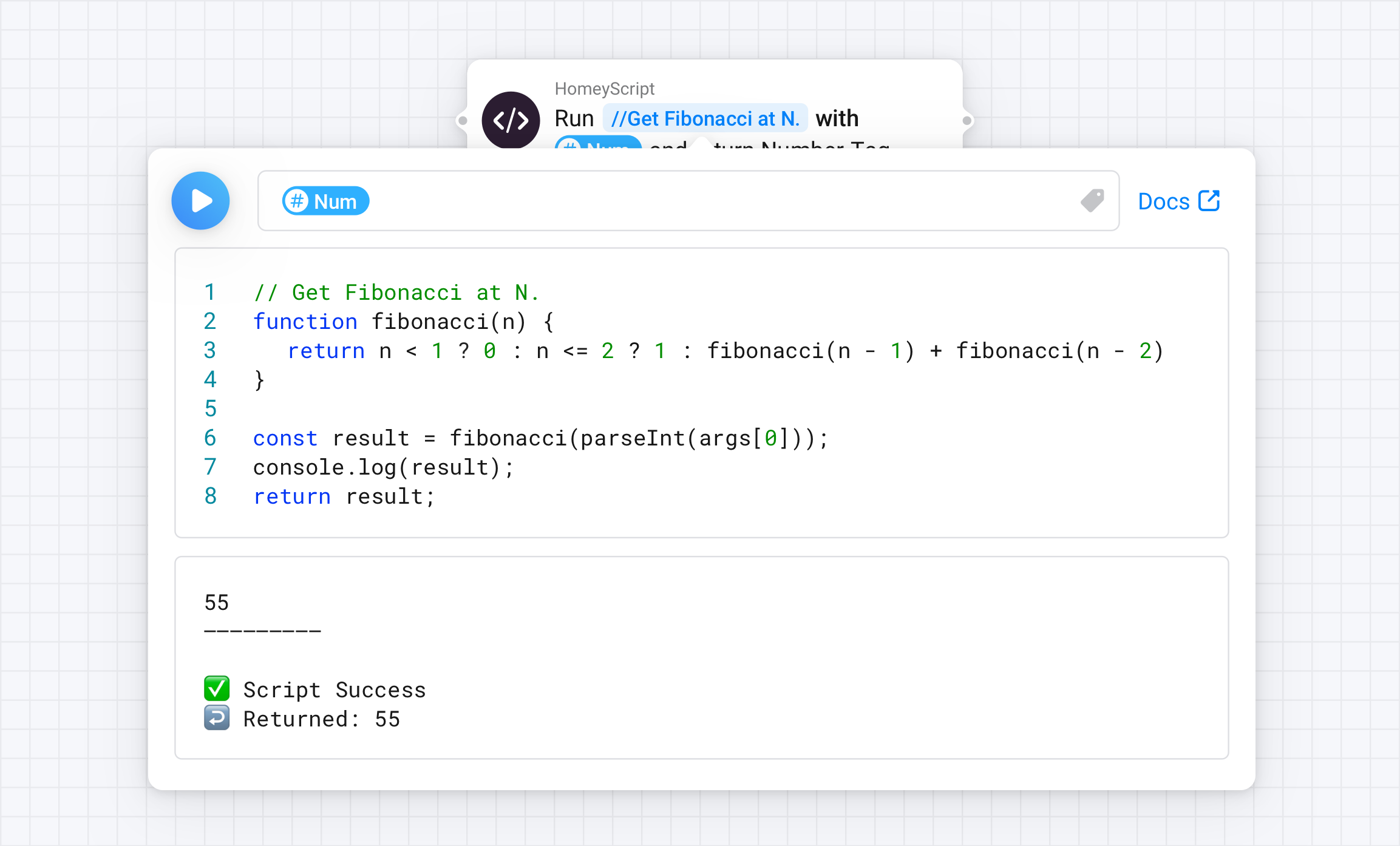 Available Today
We're very excited to see what you will build with Advanced Flow. Advanced Flow is available today. It is included in the new generation Homey Pro (Early 2023) and in Homey Premium. It is also still available for Homey Pro (Early 2019) and Homey (2016 — 2019) owners as a one-time purchase of € 25.
"Enabling our users to upgrade their Homey Pro with paid new features such as Advanced Flow is a great way for us to continue creating powerful new functionality that truly delights our customers. Instead of pushing our users to new hardware, we'd rather upgrade that what's still working great — both from an economical and e-waste perspective.", says Emile Nijssen, Creative Director at Athom.
We'd like to emphasise that regular updates to Homey Pro & Homey (2016 — 2019), including security updates, will always remain free.
To discover & purchase Advanced Flow, visit https://homey.app/advanced-flow.