Sell Homey and grow your business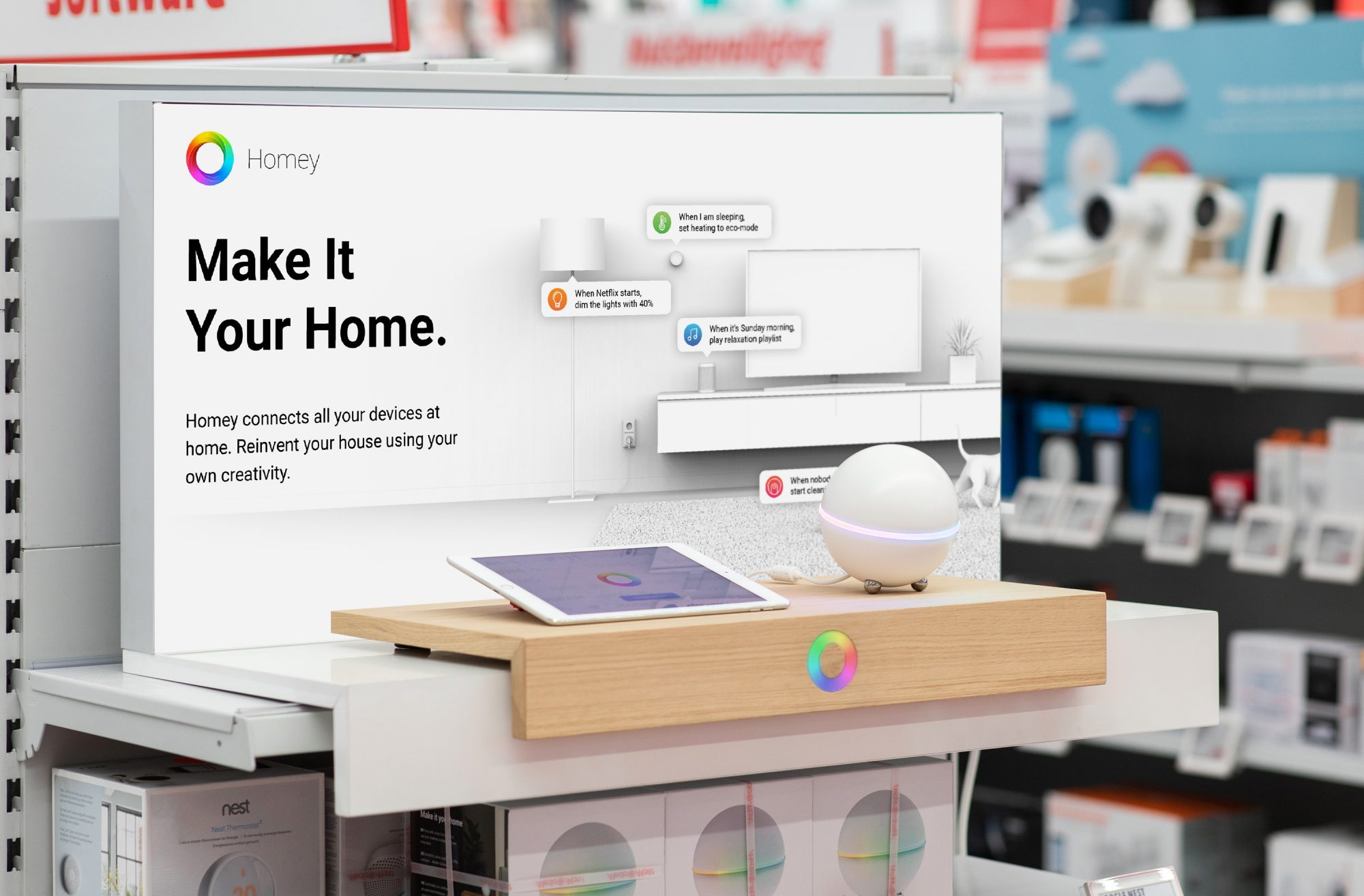 Homey is the most versatile Smart Home platform in the world. With seven wireless technologies, more than 1000 integrated brands and over 50,000 supported devices, Homey is the ideal basis for every smart home.
Are you a retailer? Transform your Smart Home department from fragmented silos to an integrated solution. Provide your customers the best Smart Home experience. Start leveraging the cross-sell possibilities of this category. Become Homey Authorized Reseller!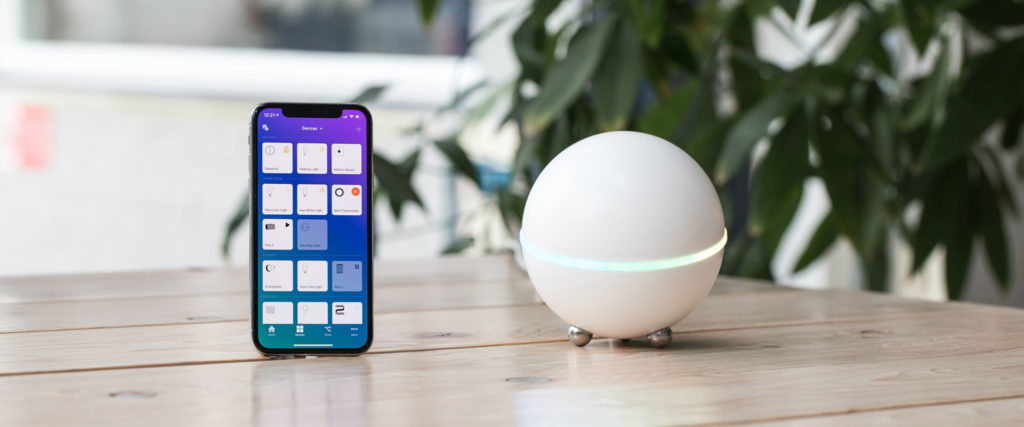 Become Homey Authorized Reseller
As Homey Authorized Reseller, you enjoy some great benefits. For starters, you are allowed to use and leverage our trademarks and imagery in your communications, website and newsletter. We will add you to our Where To Buy-page to refer new customers to your store. Receive reseller pricing on Homey and build out your business on Homey, and on the rest of your Smart Home category in parallel. As Homey works with more than 50,000 other devices, the cross-selling possibilities are endless!
Excited? Apply to become Homey Authorized Reseller through our application form. After your application has been reviewed against our reseller and distribution policies, we will get in touch with you. Together, we find out the best way to add Homey to your (virtual) shelves.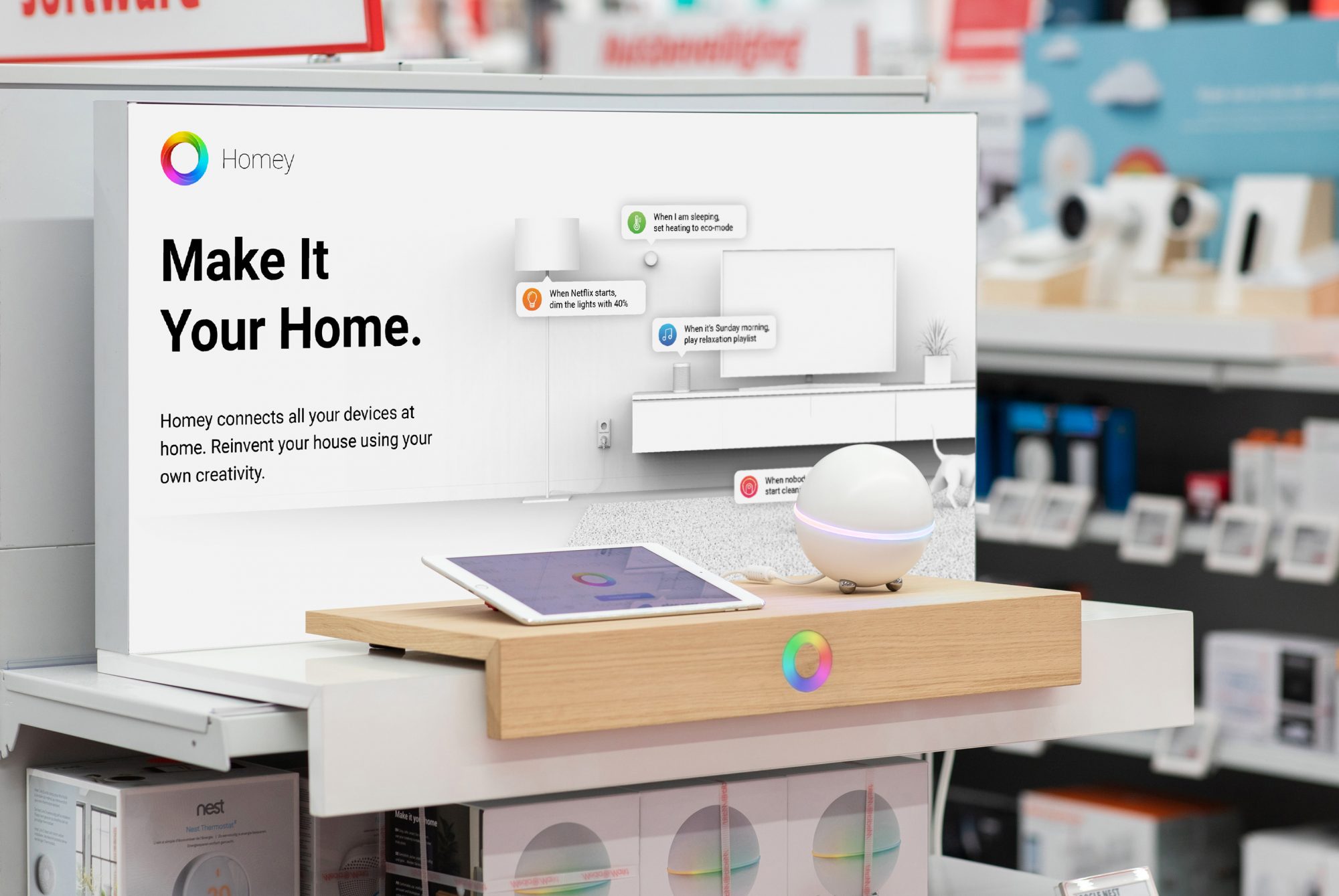 Homey Point-of-Sale display
We've developed a Point-of-Sale display to help you sell Homey as well as your whole Smart Home category. This interactive POS display shows Homey, some example scenarios as well as all relevant product info on a tablet. It's beautifully designed to transform any standard shelf into a premium, attractive and informative display. Interested? Become Homey Authorized Reseller and request your options for these displays to boost your sales.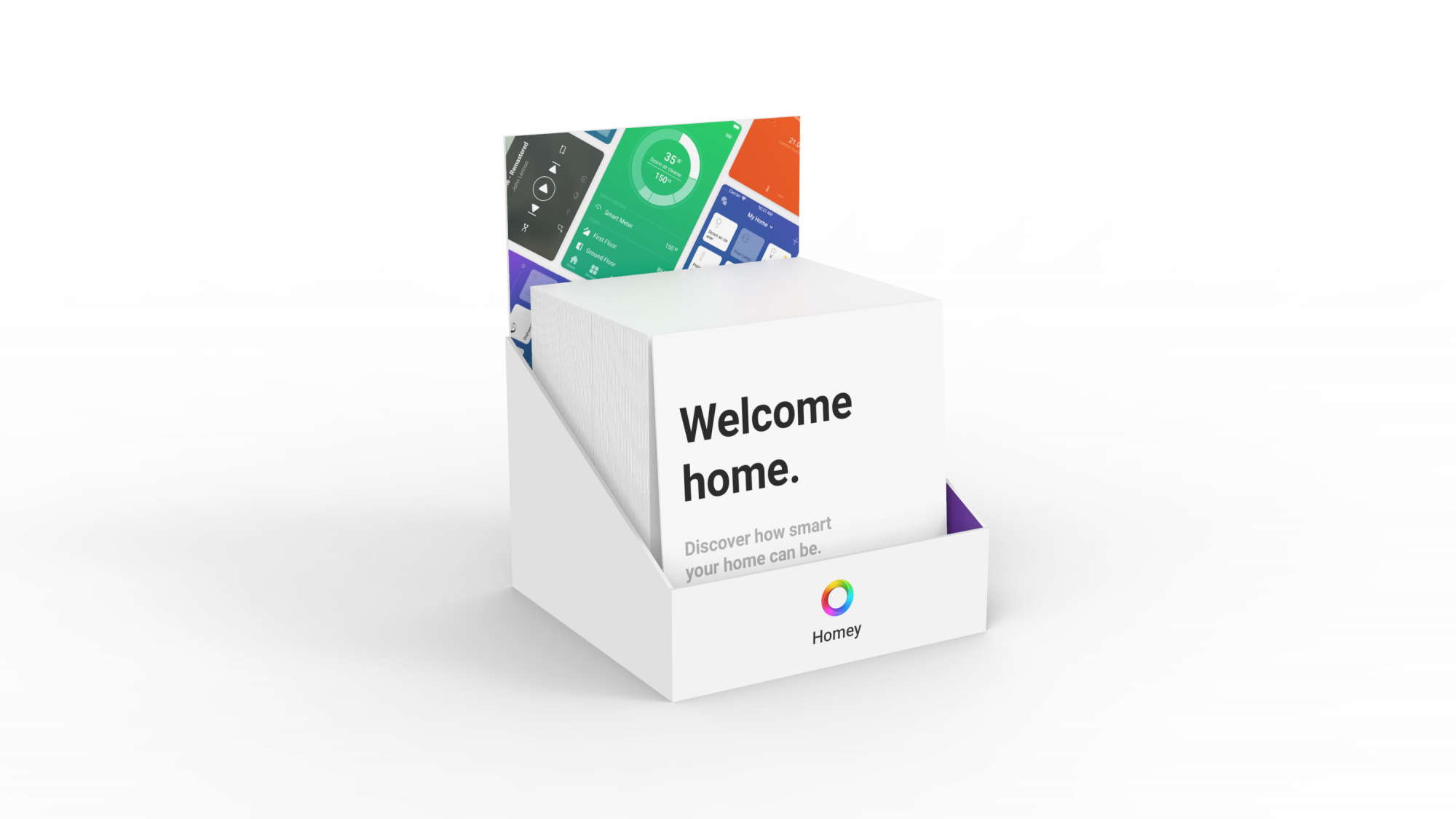 In-store promotion materials
Most purchases are made at the shelf edge - so you want to catch the eye of potential customers and draw them straight to your store. That's why we offer a variety of in-store promotion materials that communicate key information about Homey. Put some flyers on your checkout counter, harmonize your shelves with price tags and start the conversation about Smart Home.
Add Homey to your shelves and encourage customers to engage and learn more about your product. Curious about the possibilities? You can always submit a request along with the specific promotional items you wish for us to send.
Sells with Homey
A myriad of products talk with Homey. That means you can easily cross-sell these items with Homey, and vice-versa. Because what makes more sense to cross-sell than devices that actively work with each other? Below are just a couple of popular example brands that work (and sell) with Homey.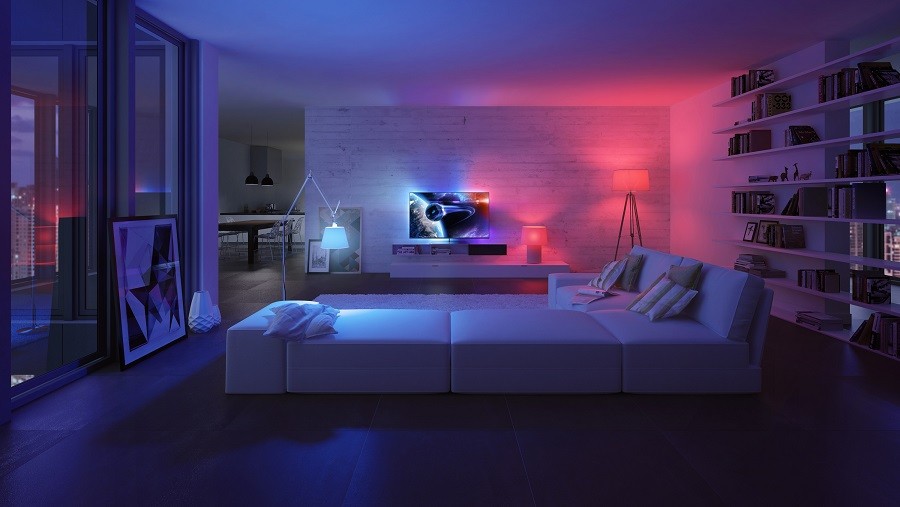 Homey + Philips Hue
Light up your home with Philips Hue. The extended smart lighting range of this famous Dutch bulb brand is fully supported by Homey. Your customers can choose from a huge array of options to create the perfect lighting in their homes. Include Philips Hue in Homey Flow, and color your home automatically. Make your Hue lighting work in sync with the other 1000+ supported brands with Homey and Homey Flow.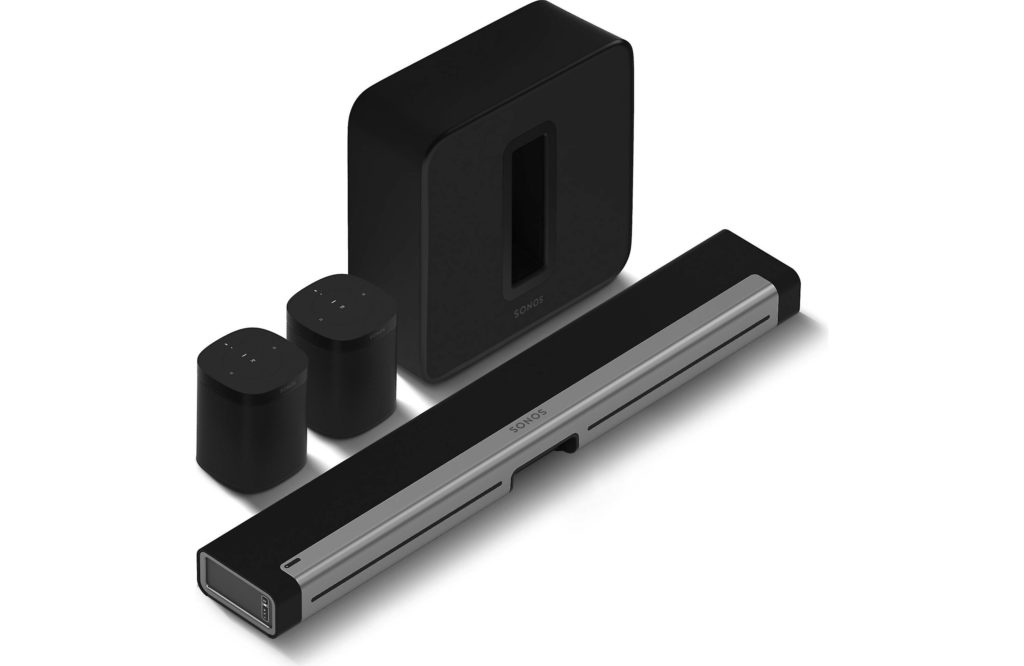 Homey + Sonos & Spotify Connect
Speakers from Sonos, or any other speaker that features Spotify connect works perfectly with Homey. Control Sonos or your Spotify Connect speakers from anywhere in the world through Homey, together with the rest of your devices at home. Use Flows to automatically play music based on your rules, and integrate speakers with your coming-home, waking-up and movie-time scenarios.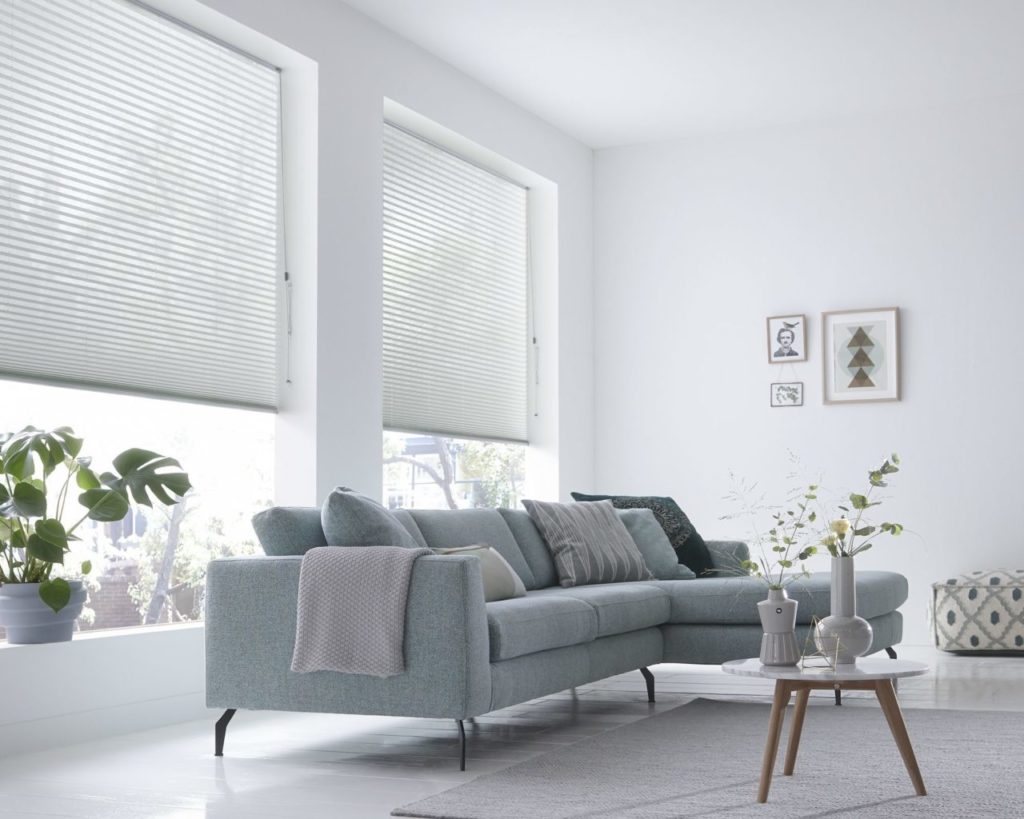 Homey + Somfy
Somfy motors can be directly controlled from Homey. Simply add the roller blinds, curtains, garage doors and other motorized products from Somfy in the Homey app. Now, you can control these devices directly from the Homey app, and include them in Flows. Combine Somfy with the 1000+ other brands Homey works with for beautiful and practical scenes.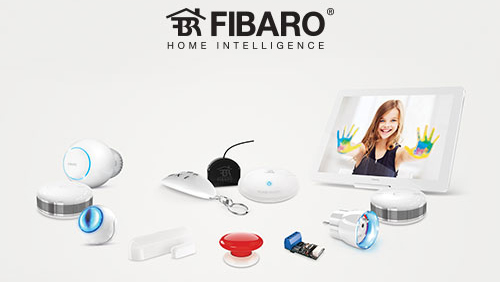 Homey + Fibaro
Fibaro is a premium Smart Home brand that has a very extended range of accessories that work perfectly with Homey. Add their beautiful and small Motion Sensor, Door Sensor, Wall plug or Smoke Detector to your shelves to provide your customers with a premium range of home automation options. Via Homey, your customers can easily combine these devices with other plug-and-play possibilities like Sonos, Philips Hue, Somfy, Aqara, Gardena, and even IKEA and KNX.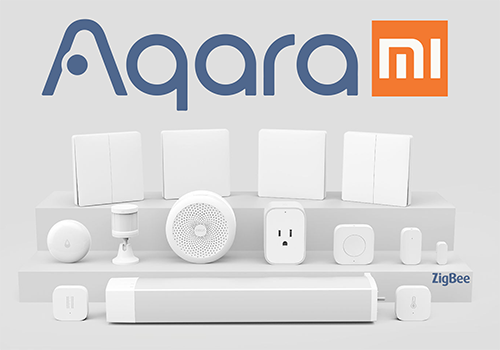 Homey + Xiaomi Aqara
Aqara is a line of very attractive Smart Home products from the Chinese firm Xiaomi. Just like other Xiaomi products, the Aqara range of sensors and switches excels in price/quality ratio. This makes them very popular with hordes of consumers. The devices work directly with Homey over Zigbee, so the Aqara hub is not necessary. Homey combines the world of Aqara with other plug-and-play possibilities like Sonos, Philips Hue, Somfy, Fibaro, Gardena, and even IKEA and KNX.

Homey + 1000 other brands
Over 1000 different brands work with Homey, on one of the seven wireless technologies and numerous communication protocols Homey features. From television sets or receivers via infrared to the latest Z-Wave sensors and Zigbee lights - with Homey you combine them all in the perfect setup. By virtue of Homey's open app platform, new brands and devices are added daily. This also means that any homebrand you might have in your stores can be added to Homey, like the Swedish firm Kjell&Company has successfully done with their Cleverio range of devices.
The possibilities of Homey are endless, and its ease-of-use is unparalleled. Add Homey to your shelves and start elevating your customers' Smart Home experience - and your Smart Home sales.