Introducing the all-new Homey Pro
Today we're introducing the next generation of Homey Pro, the world's most advanced & easy to use smart home platform. Homey Pro combines the powerful, intuitive Homey experience with local processing — all in one beautifully designed hub made for any home. The next generation Homey Pro is available for pre-order starting today.
"We know what our most demanding customers want, and we've made sure to put all that in the new Homey Pro. " says Emile Nijssen, Creative Director at Athom. "This time we didn't make any compromises, and it has become a feature-packed product that will surprise customers even months after unboxing".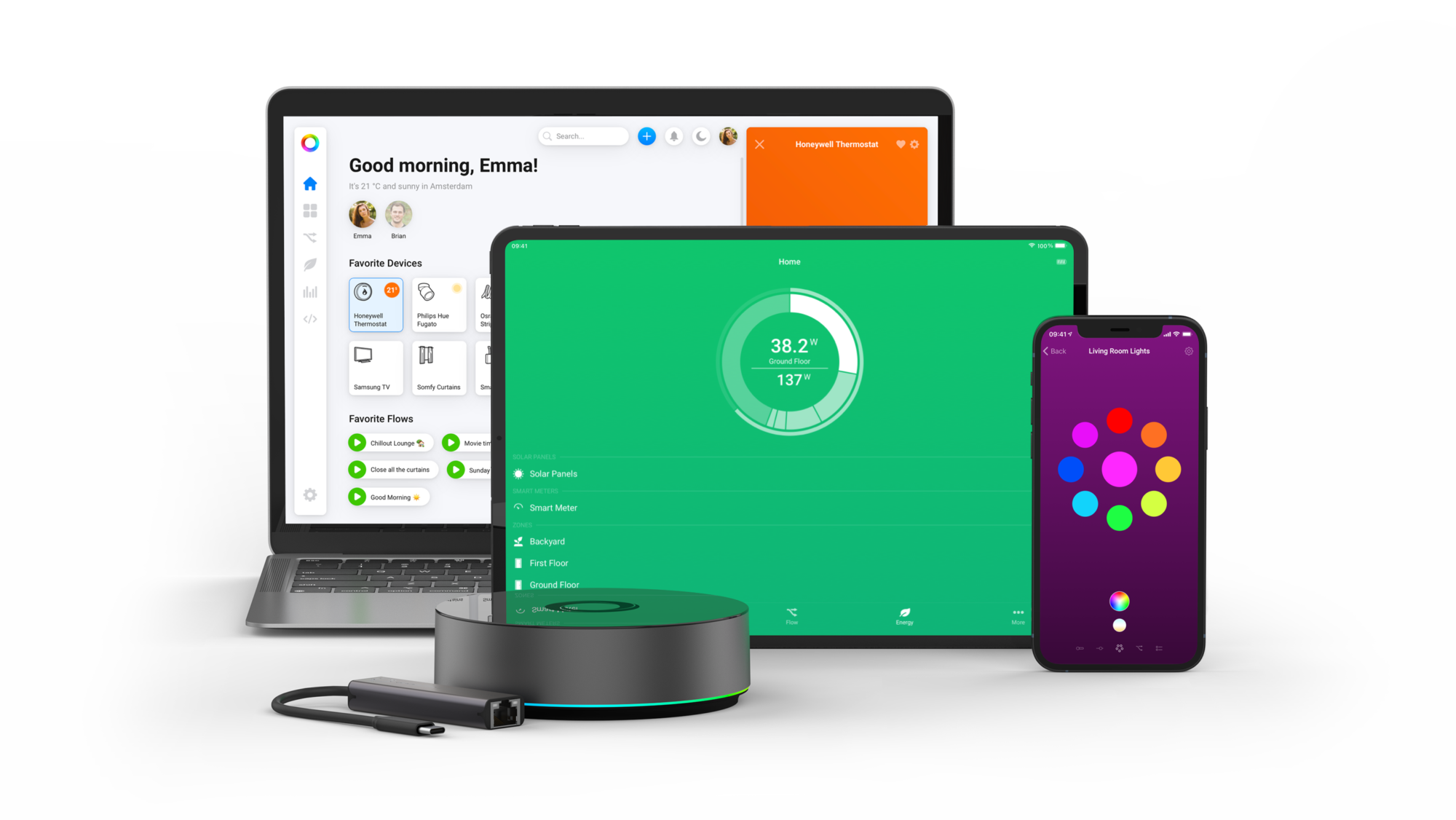 New & Improved Connectivity
The new Homey Pro features onboard antennas for Wi-Fi 2.4 & 5GHz, Bluetooth LE 5.0, Z-Wave Plus, Zigbee, Thread, 433 MHz and Infrared.
The new Homey Pro has up to 4X better wireless range compared to the previous generation, depending on the technology. Based on Homey Pro's location, Homey Pro automatically switches to one of its three Z-Wave antennas, which are region-specific.
Increased Performance
Homey Pro has up to 3.5X compute performance compared to the previous generation. Homey Pro features a quad-core ARMv8 processor, 2 GB of DDR4 RAM and 8 GB on-board storage.
Matter & Thread
Homey Pro can connect with Matter-devices, using either Wi-Fi, Ethernet or Thread. Next to supporting all base Matter-types, Homey apps can extend Matter devices' functionality such as manufacturer-specific features, energy usage and a manufacturer-defined appearance to honor the brand's uniqueness.
Homey Pro will also bridge non-Matter devices to existing Matter networks. Matter support is scheduled for Q2 2023. Thread support is scheduled for Q3 2023.
Ethernet
Homey Pro can be connected to a wired network with the Homey Pro Ethernet Adapter. Designed to be plugged into the power adapter, Homey Pro will always look beautiful without messy cables, even when connected to Ethernet.
The Homey Pro Ethernet Adapter can be purchased separately for EUR 29 / USD 29.
Satellite Mode
Homey Pro can be extended with one or more Homey Bridges to increase wireless coverage in large homes. Zigbee and Z-Wave will act as a powered repeater in the mesh network. Devices using Infrared or 433 MHz will use the nearest Homey Pro or Homey Bridge.
Homey Bridge can be purchased separately for EUR 69 / USD 69, and can be used either with the Homey service or Homey Pro. Satellite Mode is scheduled for Q1 2023.
Advanced Flow
Advanced Flow, the most visual and powerful tool to create home automations, is included in the next generation Homey Pro — free of charge. Advanced Flow empowers Homey Pro users to unleash their smart home creativity on an infinite canvas.
Local First
The new Homey Pro is designed to work standalone, with as little cloud-dependency as possible — for speed, reliability & privacy. With new features such as Local Port Forwarding, Local API Keys, SSH Access and Local USB Backups, Homey Pro can delight even the most demanding customers.
Naturally, Homey's cloud services like the Homey App Store and remote access can still be leveraged and are included free-of-charge with the new Homey Pro. Cloud backups are optionally available at EUR 0,99 / USD 0.99 per month.
One ecosystem, no lock-in
"The new Homey Pro works with the same Homey iOS & Android app and the Homey Web App that customers already know and love. It truly is the best way to take any smart home to the next level." says Stefan Witkamp, Commercial Director at Athom.
Homey Pro comes with all Homey features such as compatibility with 50,000+ devices from over 1000+ brands, Flow, Advanced Flow, Energy, Insights, Logic and the entire Homey App Store full of new functionalities.
Availability & Pricing
Thanks to its unique multi-antenna design, the new Homey Pro is available worldwide — including new countries, like Canada, Australia and the United States.
Homey Pro is available for pre-order today for EUR 399 / USD 399 at homey.app/pro. The first batch is expected to ship to customers in December 2022. All pre-orders will be shipped using a first come, first serve queue, with Homey app developers having priority.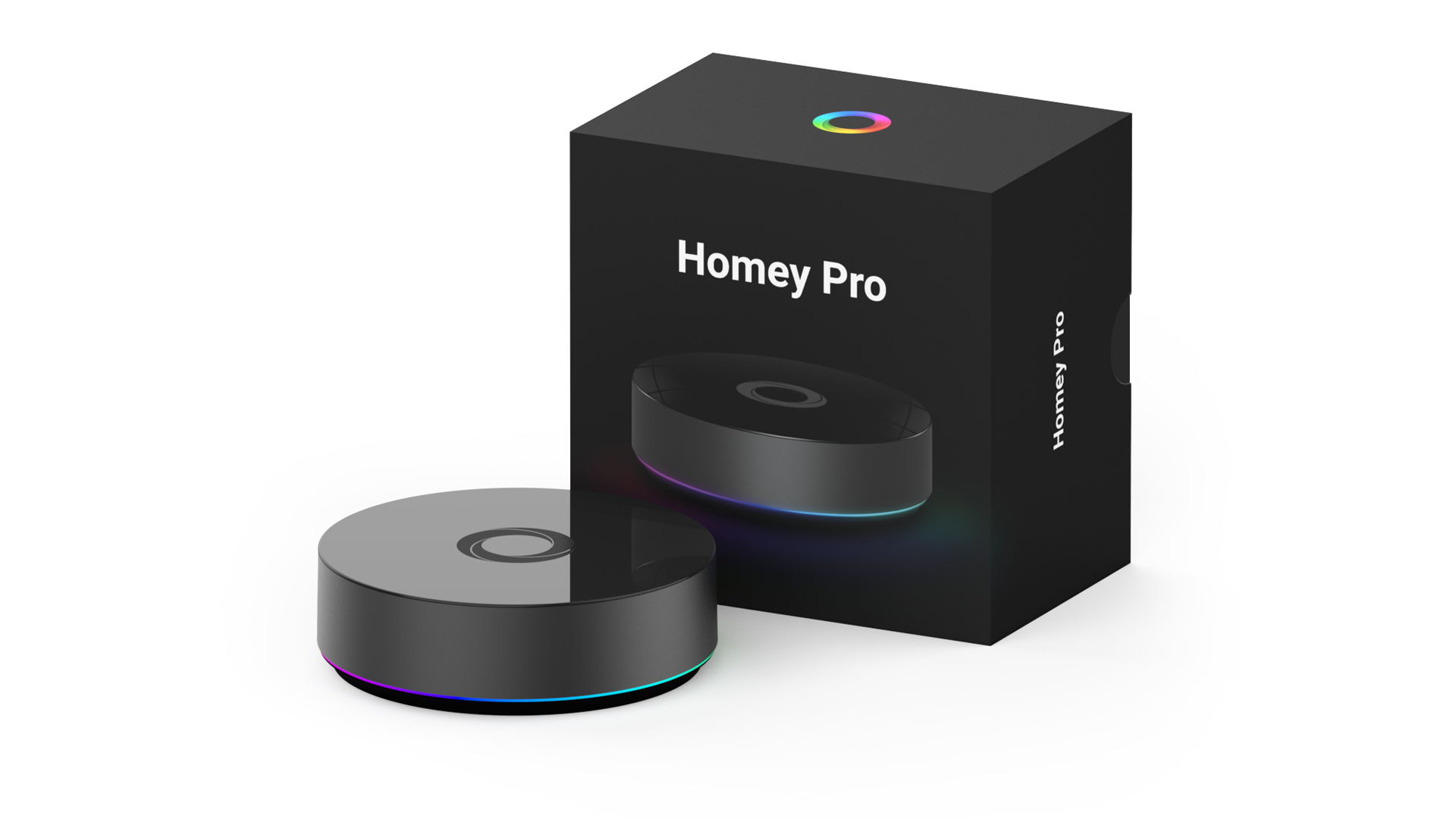 About Athom B.V.
Athom B.V. is the maker of Homey, Homey Bridge and Homey Pro. Founded in 2014 during a successful Kickstarter by Emile Nijssen (Creative Director) and Stefan Witkamp (Commercial Director), Athom has repeatedly pushed the boundaries of the smart home market across the world with their relentless focus on delivering a great experience to end-users and constantly providing technological excellence.
For press-related inquiries, please contact pr@athom.com.