Homey in an Engineering classroom
To think more creatively about how to make something more accessible. That is what Paul le Maitre, teacher PIE (Production, Installation and Energy) wants to teach his students. Therefore, he wrote the textbook 'Smart technology with Homey'. We are curious to find out how he uses Homey at school and take a peek at the technical classroom of College de Brink in the Dutch town Laren.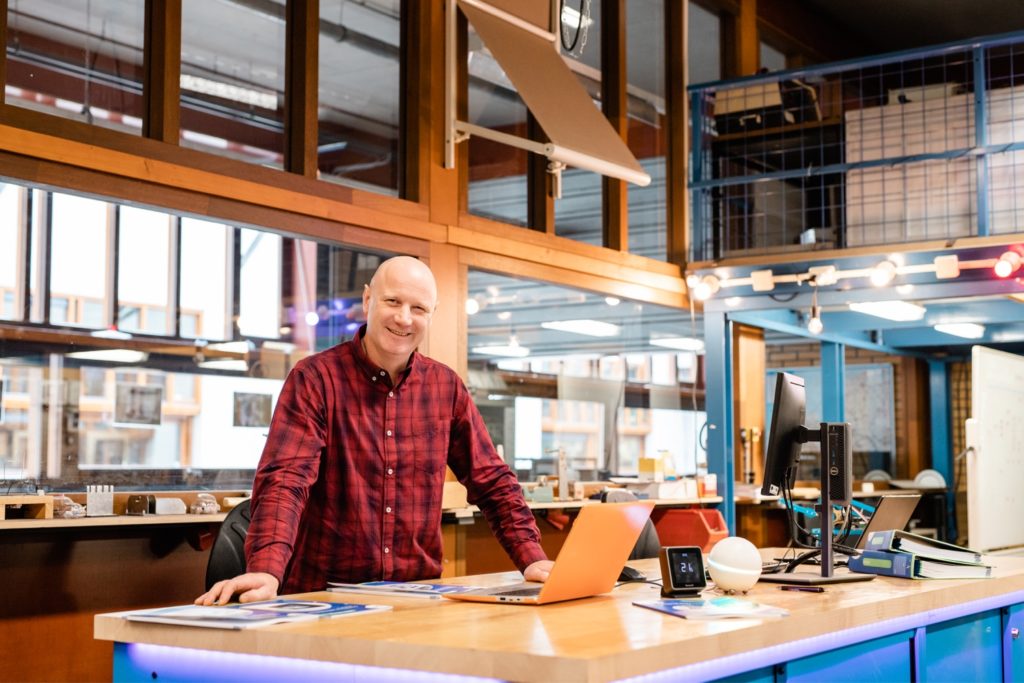 When we enter the classroom, the lesson is still in full swing. Syb (15) is working with Homey. With a laptop and an open textbook in front of him on the table, he is busy coming up with new Flows. With Homey, he can operate smart components in the room. There are smart lights, smart plugs, sensors, cameras, a smart doorbell, a weather station and there are even smart sun blinds in the room.
Elective course domotics
"Almost all students have chosen domotics as an elective course. They really want to dive deeper into this subject. In the third year, they already get some lessons in home automation and get the chance to work with Homey. In the fourth year, they can choose domotics and automation as an elective course, as Syb did. And now he is working on the textbook", says Paul.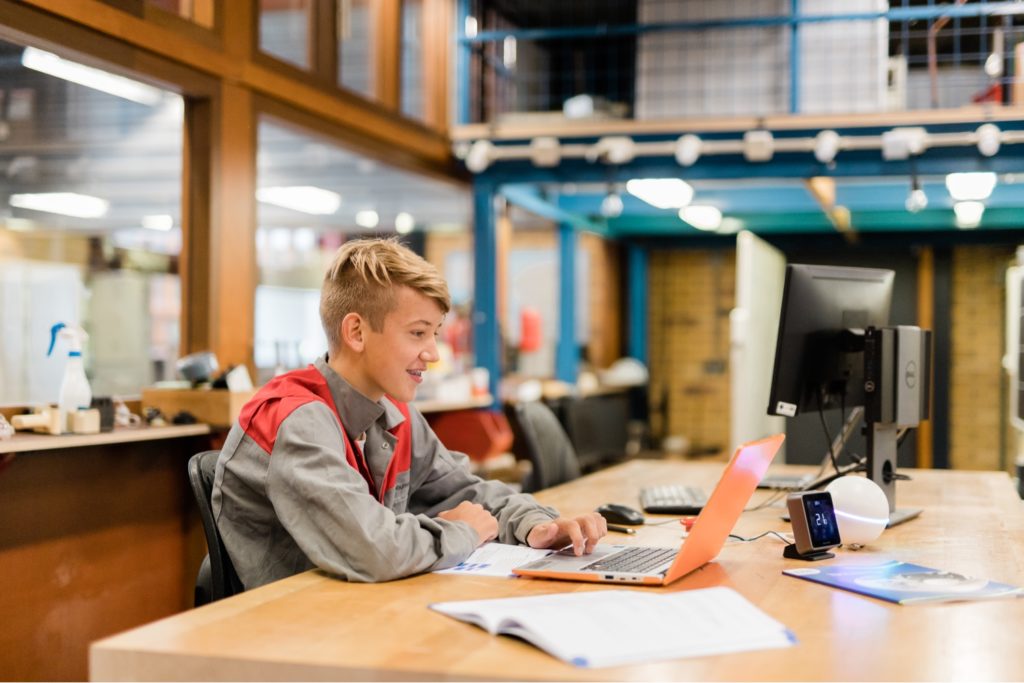 New technology
"At home, I use Homey for a while, which I am fanatically using", Paul says. "I thought it would be nice to also apply this piece of new technology in education. I mean, let's face it, it is entirely outdated to get the students to work with all kinds of wires. I have 24 years of experience in electrical engineering and I am still following a course. To this end I had to write teaching materials, and I got into it a little too much. Homey was enthusiastic about the idea and a Homey came into the classroom. Eventually, I invited publisher Vertoog and then the ball started to roll. They have published my book and also all of our other teaching material, so the layout fits nicely with the rest of the curriculum."
Create your own Flows
"The book is about how Homey works technically up to the question of how you can improve the quality of living with the use of home automation", Paul explains. "I applied a design cycle in the book. If the student goes through the four phases (problem-defining phase, method-determining phase, decision-making phase, and the designing phase), you should theoretically come to a good product. For example, they have to write a plan of approach, come up with different Flows and make a mind map. Ultimately, they present the end result to me."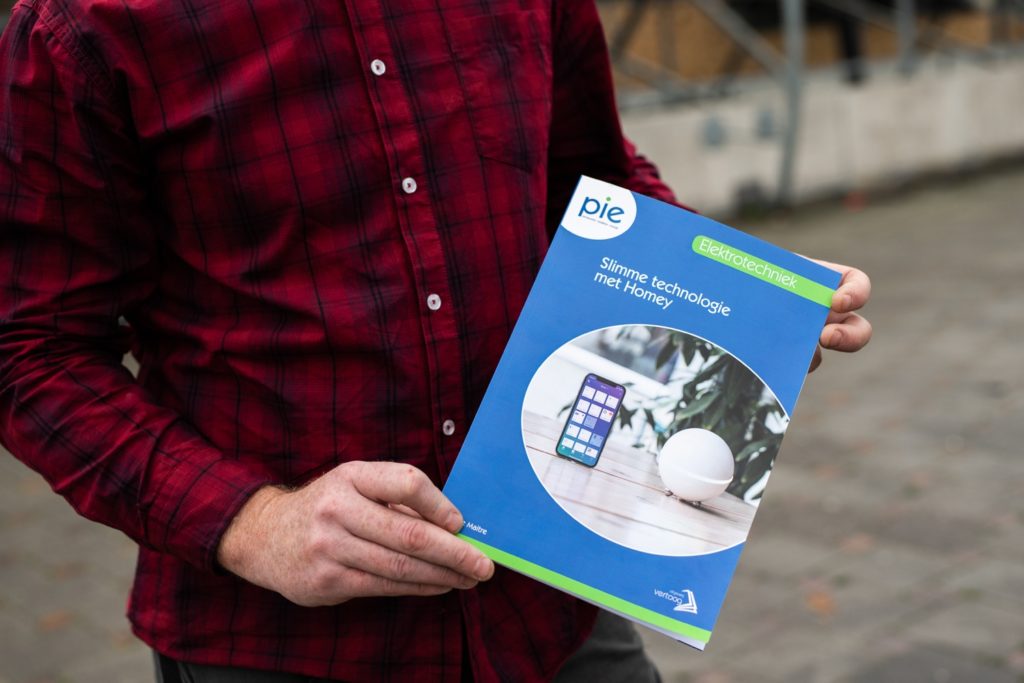 Press all the buttons
"You can see that students test all the buttons as soon as they start", Paul laughs. "Especially the big red button on the desk is very tempting. I set it up so that an alarm is triggered and you hear Homey say 'hands off!'. But yesterday Syb programmed it so that all the lights flashed. That creativity, that's what it's all about for me. Students find it wonderful to change everything just using a laptop or mobile phone. Suddenly, for instance, I have another ringtone on my bell."
Smart sunblinds
Of course, Paul invented his own Flows for the classroom. "The room is a lot lower than the road, so when it rains cats and dogs it sometimes gets flooded. That is why there is a water sensor next to the door, so that I get a signal when water is detected. Another Flow is that everything turns off at five o'clock. If a student has tried something, it gets overruled by my own Flows and everything turns off anyway."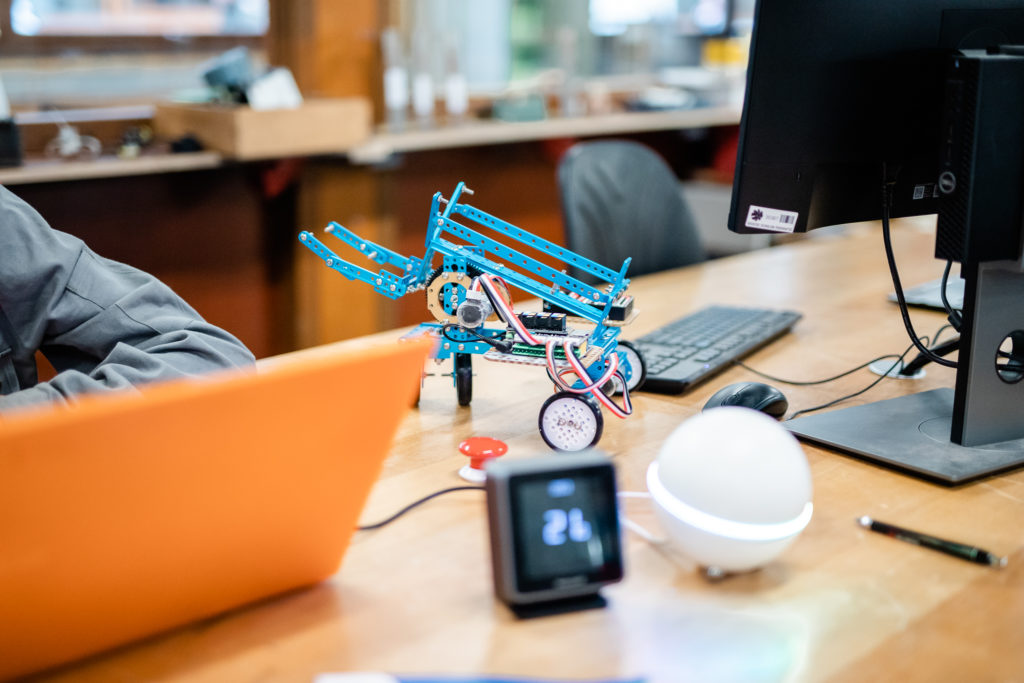 Creative thinking
The most important thing that Paul wants to teach his students? To think creatively about how to make something easier for someone with different elements. "Isn't that a beautiful profession?", Paul laughs. "To see if they are interested in technology, freshmen come here a few hours a week. I always strike up a conversation about who already has domotics or uses home automation at home. I also have a drone and an Arduino robot that they can program, which they find very fascinating. In the past, technology students mainly thought of a plumber or electrician, but now we are really emphasizing new technologies. As a result, I hope that many students opt for technology."