Teach Alexa New Home Automation Skills with Homey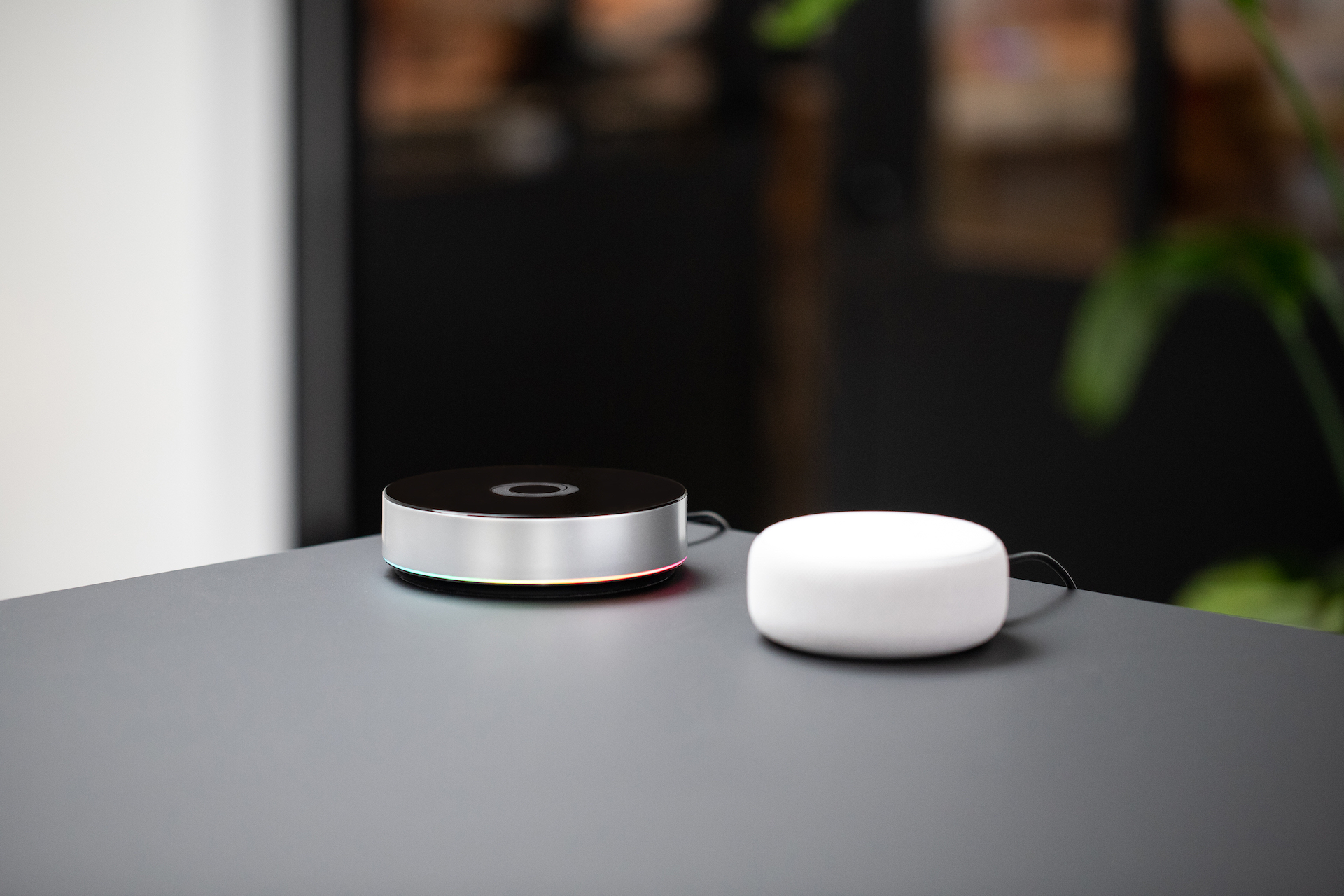 Amazon's smart home products have been around for many years, and with each new generation, they've improved significantly. Whether you're a hardcore Alexa fan or just started looking into the Alexa ecosystem, there are many unexpected things you can do with Amazon's voice assistant and a smart home system like Homey. Take a look at our list of home automation ideas you should try yourself.
Alexa Automation Inspiration
When Amazon first introduced it, Alexa seemed like a genie in a sci-fi lamp. Although initially not the most useful tool, it has become a staple in many households worldwide, learning many new tricks and skills along the way.
Of course, an important part of Alexa's success has been tied to the control of smart home ecosystems, and Homey is no exception. It communicates with Alexa both ways, being able to receive commands from an Echo or a Fire TV, and at the same time, requesting that Alexa make announcements, play music, or perform other tasks.
Looking for the most creative uses of Amazon's voice assistant? Check out our summary of Alexa home automation tricks below!
Controlling Homey via Alexa
Running your favorite Flows with Alexa is straightforward. You can simply say Alexa, run the [Flow name] scene.
It's also possible to make voice shortcuts or include Homey Flows in more complex Alexa Routines, meaning that all the extra functionality like sound recognition and device location tracking can initiate smart home actions in Homey. All you need to do is enable the Homey Alexa Skill.
Make waking up enjoyable
We all know how hard mornings can be. Luckily, with Alexa and Homey, it's easy to make getting out of bed more pleasant.
Feel free to disable the wake-up melody, and when your newly silent Alexa alarm goes off, Homey can slowly increase the brightness of your bedroom light and open the smart blinds to let the natural light in. This way, you'll feel a lot less cranky during the day.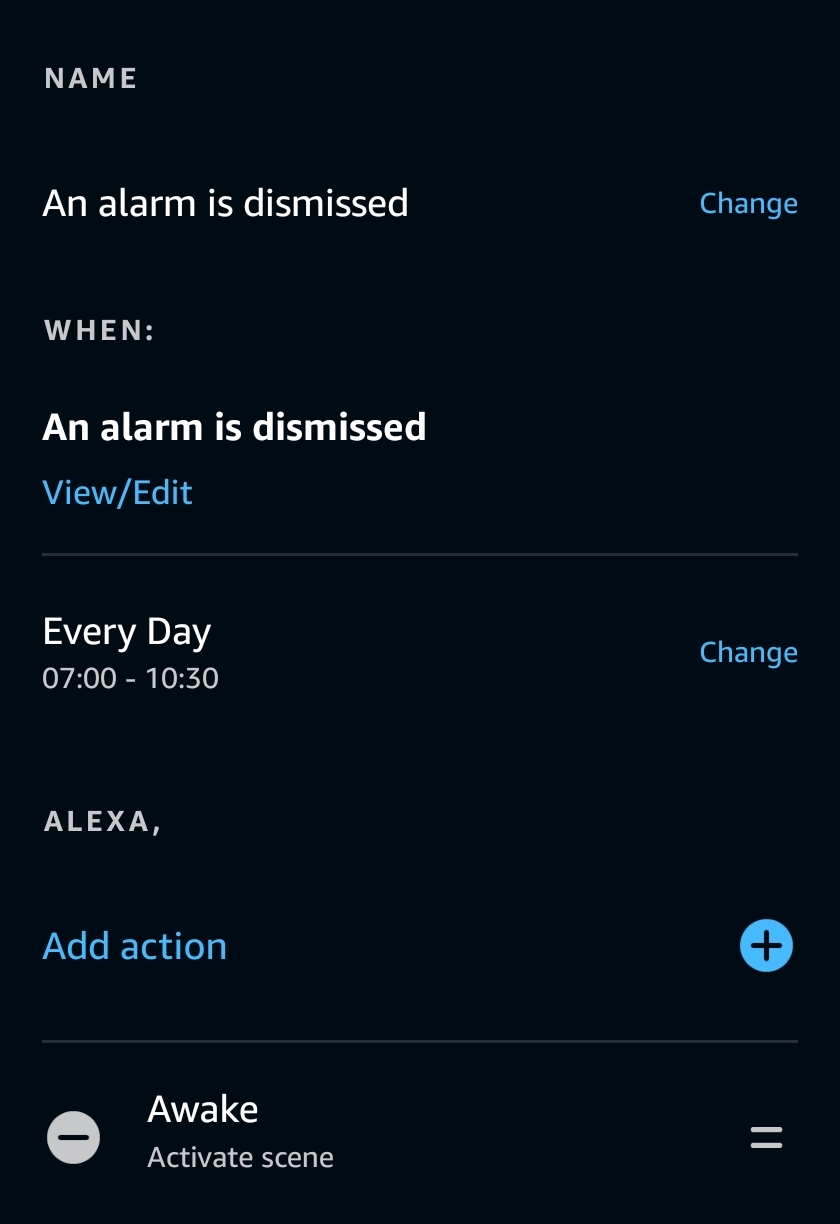 Turn the lights on
Alexa lets you create useful voice shortcuts for many types of actions, including smart home control with Homey. For example, create a shortcut with the phrase Alexa, lights! to trigger a Homey Flow that turns on all of the lights in your living room.
In the Alexa mobile app, it's possible to specify that this automation can only be initiated from a specific Echo device, eg. the one in your living room. Accordingly, you can make similar actions for your other rooms.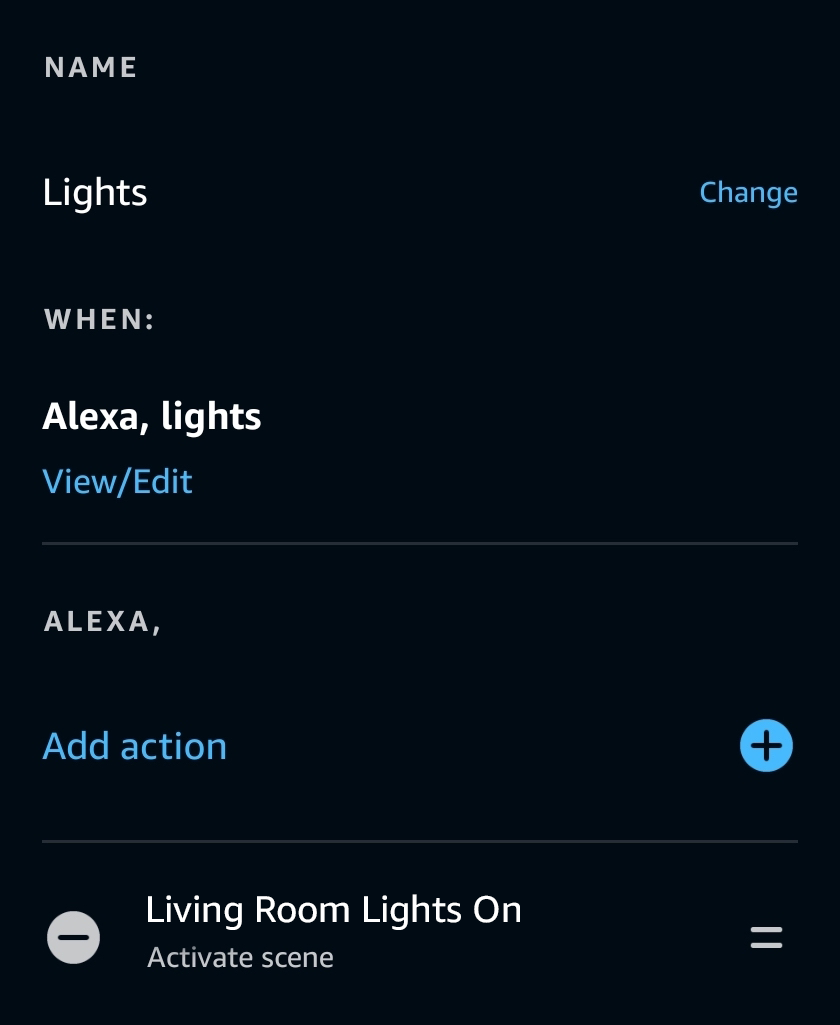 Keep an eye on your baby
There are many types of baby monitors on the market. If you're currently looking for one, you might actually not need a standalone device.
If you already own an Echo Show, Alexa's sound detection recognizes that there's a baby crying. In such cases, Homey can initiate a video feed of your kid and start playing their favorite lullaby on a Sonos speaker in the nursery.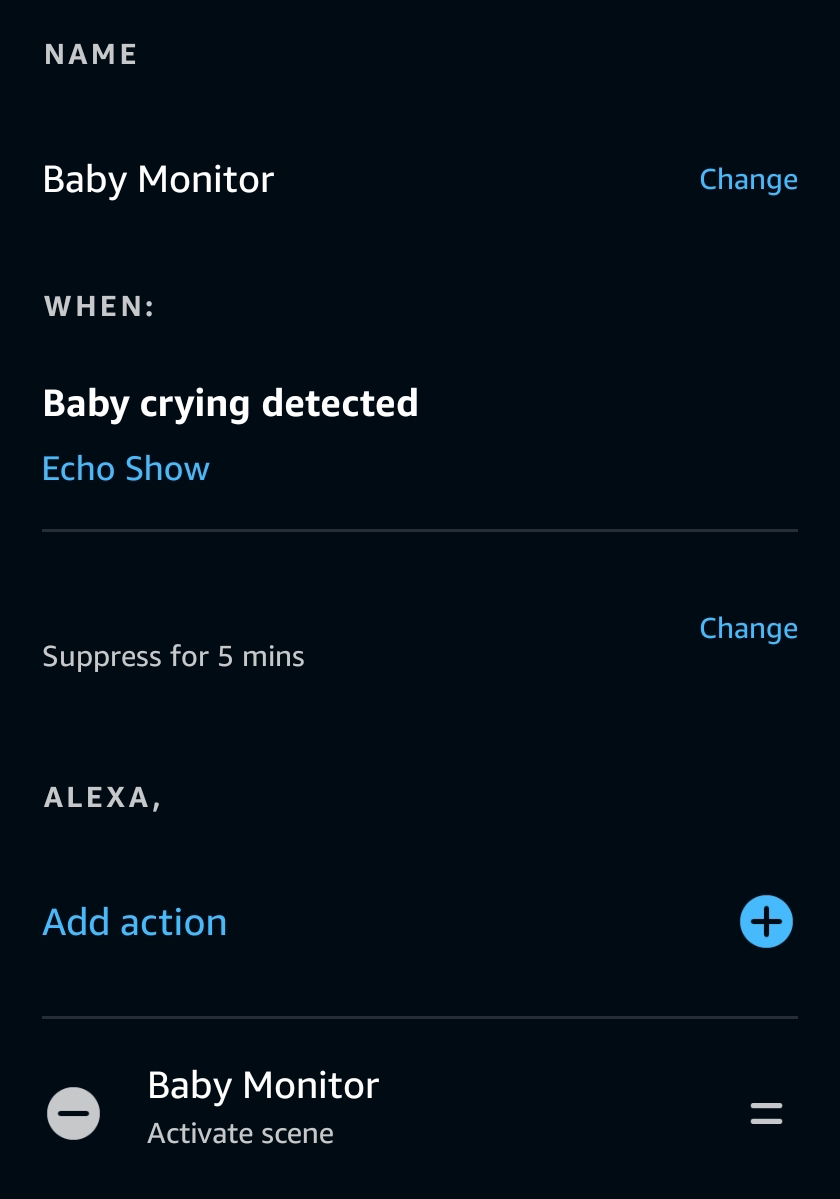 Improve your partner's sleep quality
Amazon's sound detection also comes in handy when you snore and your significant other's sleep quality suffers.
Set up a simple nudge – if Alexa detects any snoring at night, it will ask Homey to notify your mobile device or your smartwatch, for example with a gentle vibration or sound. This way, it's possible to be woken up and prevent annoying your partner.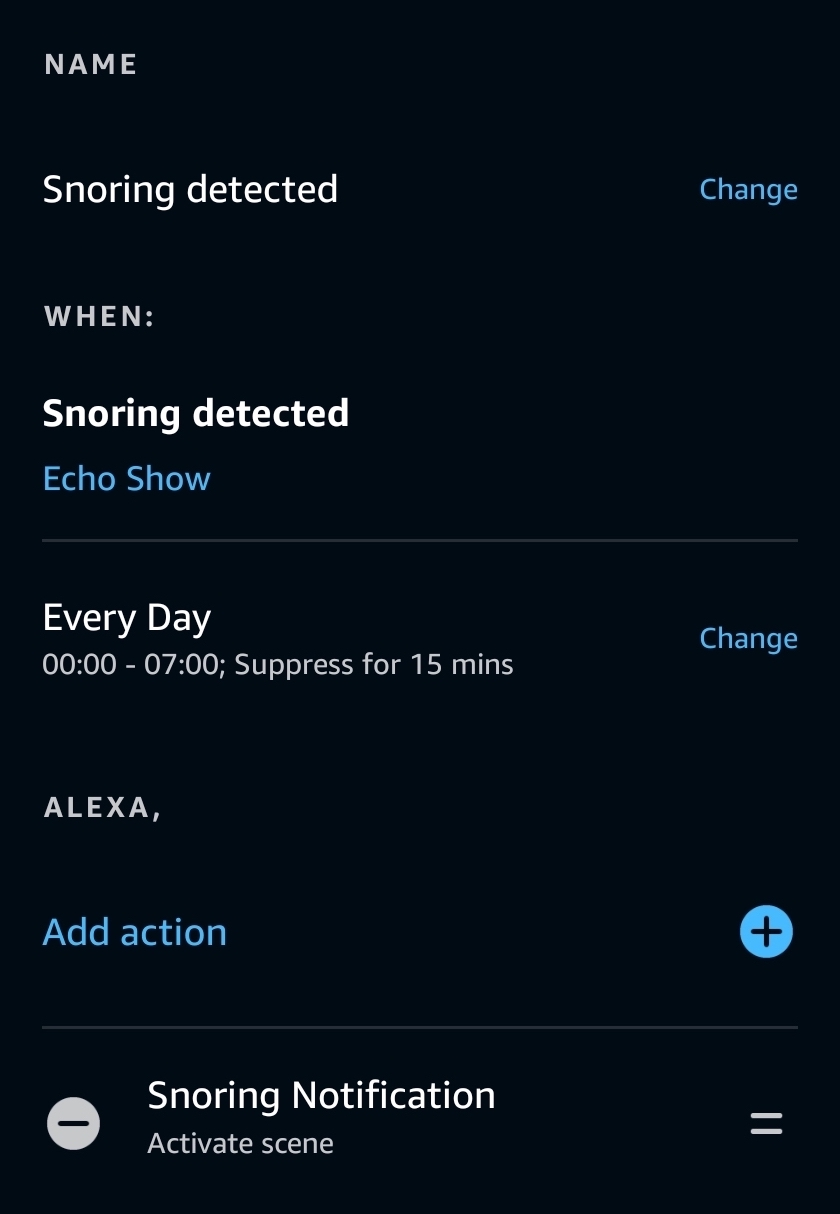 Controlling Alexa via Homey Apps
If you're feeling adventurous and don't mind encountering a bug or two, the integration between Homey and Alexa can also go the other way around.
With the Spotify App, HTTP requests in Homey Logic, or the community Alexa App installed on a Homey Pro, your commands can also be relayed from Homey to Alexa. Homey will send requests directly to your Echo speakers and displays.
Turn your bathroom into a spa
If you want to relax after a long day at work, your smart home is the ideal place. Homey and an Amazon Echo will turn your bathroom into a private spa – take a steaming bath with your favorite Spotify playlist starting automatically.
Control the music playback
Many devices can be easily replaced with Homey, including remote controls. For instance, Amazon used to sell the Echo Remote, a Bluetooth controller for the Echo line, which is no longer available.
You can achieve the same functionality by repurposing an IKEA Sonos remote or Trådfri dimmer and specifying which device you aim to control via the Spotify app. As a bonus, you're free to control multiple Echos at the same time.
Start saving energy
The communication between Homey and Alexa can also work via the Alexa Homey App. However, mind that this is a community app and might not always work as intended.
In any case, there's a wide range of actions you might like to try. For example, it can help you avoid wasting power when there's no longer any activity at home. Simply make your Echo Show devices turn their screens off when there's no movement or activity at home.
Order the necessities online quickly
Similar functionality can also be achieved thanks to the Voice Monkey Alexa Skill (currently in beta), which creates a Virtual Doorbell in Alexa, triggering further actions. Voice Monkey offers the ability to ring this Virtual Doorbell via an HTTP request.
Now, there are many DIY smart home projects you can build with this tool.
For instance, ever since Amazon discontinued its Dash Buttons, the functionality has been missed by many. Fortunately, now it's possible to have your Homey order things for you on Amazon. With the following Flow and Routine, you simply press a Zigbee button connected to Homey to add a frequently used item to your Amazon shopping cart.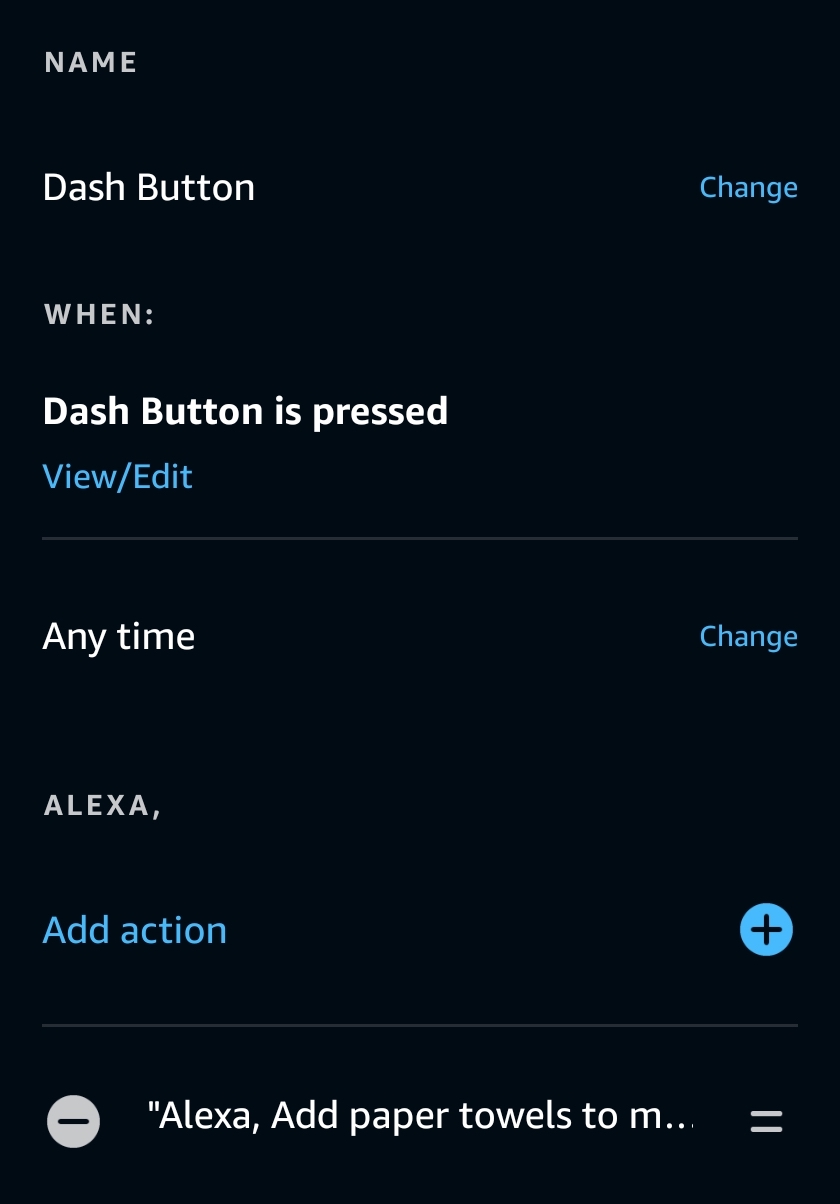 Remember to hang your clothes
There's a neat little trick that will prevent you from forgetting your freshly washed clothes in the washing machine. Plug the appliance into a smart plug with power metering, and every time the washing cycle finishes and the washer stops consuming power, it will trigger a virtual Voice Monkey doorbell via an HTTP request.
This will trigger an announcement from your Amazon Echo devices around the house and also on your phone, in case you have the Alexa app installed.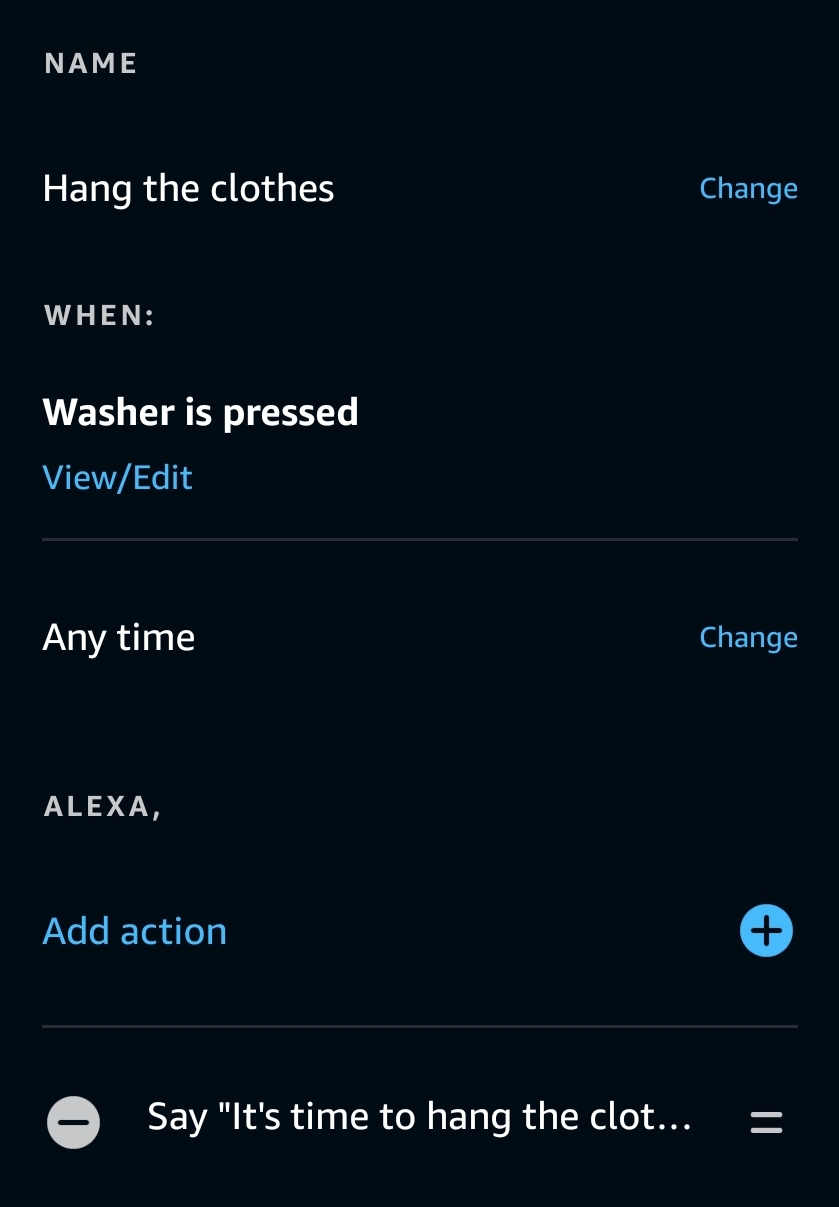 Conclusion
As you can see above, the Amazon Echo and Fire TV devices make your home more interactive and easier to control when connected to Homey. Alexa Routines add new, creative options for home automation with Homey Flows, providing both new actions and triggers. So go ahead, install the Homey Alexa Skill and try it out for yourself!
Homey lets you easily explore the world of home automation, and with a little bit of time, it's possible to have lots of fun automating your smart home, just like with the Flows in this article.
If you've already found new ways of integrating Homey with Alexa or other devices, let us know by tagging us on Facebook or Twitter. Show us your DIY home automation projects with the new Homey, Homey Bridge, or Homey Pro, and we'll feature your best Flows on our website.